Blog
Checking In on Inflation
While recent trends in inflation are promising, inflation remains well above the Fed's 2% target: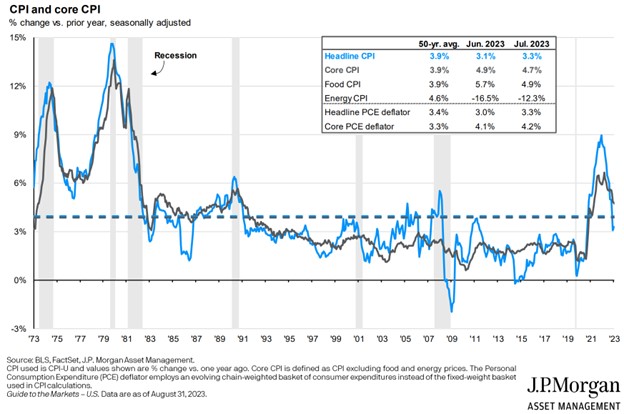 The headline inflation numbers have come down considerably over recent months, largely thanks to falling energy prices. However, the Fed focuses more on various core inflation measures, as they are less volatile. Core CPI has been falling, but is still close to 5%. The Atlanta Fed also calculates a sticky-price CPI that looks at items whose prices change relatively slowly, and the sticky-price CPI has shown greater progress, with that CPI rising only 3.1% on an annualized basis in July. Still, while inflation has clearly fallen from its peak, it remains significantly above target by most measures.
In a speech at Jackson Hole in August, Fed Chair Jerome Powell emphasized that the inflation fight was not yet over. He argued that while the June and July core inflation reports were welcome news, further evidence of sustainable downward movement in inflation was needed. He expressed the Fed's choice in upcoming meetings as between maintaining the currently high federal funds rate of 5.25%-5.50%, or raising it further. Not surprisingly, markets have taken the Fed's hint and are not expecting rate cuts over the next several months—while the Fed is likely to hold rates steady when it meets later this month, it may raise rates another 25bp at its November meeting.
###
JMS Capital Group Wealth Services LLC
417 Thorn Street, Suite 300 | Sewickley, PA | 15143 | 412‐415‐1177 | jmscapitalgroup.com
An SEC‐registered investment advisor.
This material is not intended as an offer or solicitation for the purchase or sale of any financial instrument or investment strategy. This material has been prepared for informational purposes only, and is not intended to be or interpreted as a recommendation. Any forecasts contained herein are for illustrative purposes only and are not to be relied upon as advice.
---
‹ Back