Blog
Corporate Tax Rates May Get an International Standard
Last week 130 countries agreed to a corporate tax framework with a minimum tax rate of 15%. As noted at https://www.cnbc.com/2021/07/01/nations-agree-to-support-us-proposal-for-global-minimum-tax-on-corporations.html, US Treasury Secretary Janet Yellen stated that the minimum standard would curb the unproductive "race for the bottom" conducted by countries which would lower their tax rate, only to see rival countries lower theirs in return.
For many of the signatories, a 15% corporate tax rate would be a nonbinding constraint, as their current rates are already higher: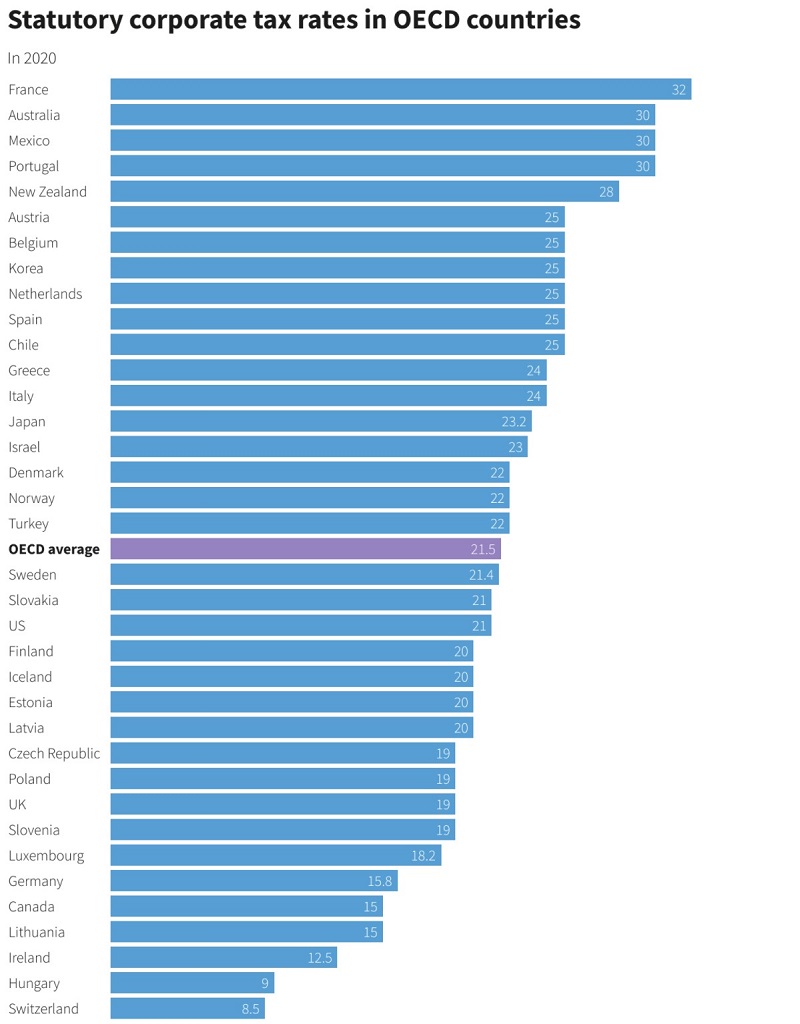 9 countries involved in the negotiations did not sign on to the framework, including Ireland and Hungary, 2 countries with a corporate tax rate under 15%. As described at https://www.reuters.com/business/countries-backs-global-minimum-corporate-tax-least-15-2021-07-01/, the EU would need unanimous agreement to pass a law ratifying the deal, so continued opposition by Ireland or Hungary would be a deal breaker. In the US, Republican Representative Kevin Brady, the top Republican on the House Ways and Means Committee, has indicated his disapproval of the deal.
The deal was motivated in part by a wish to limit the practice by tech firms of parking profits in low tax countries irrespective of where such profits were earned. In return for a curtailment of this profit shifting, the US has argued for the elimination of various digital services taxes once negotiations are finalized.
Overall, while the corporate tax agreement represents significant baby steps towards an international consensus, EU ratification concerns, US partisan divisions, negotiations of final details, and the modest 15% minimum rate would all serve to make the deal more likely to have a greater symbolic meaning than impact on bottom lines.
###
JMS Capital Group Wealth Services LLC
417 Thorn Street, Suite 300 | Sewickley, PA | 15143 | 412‐415‐1177 | jmscapitalgroup.com
An SEC‐registered investment advisor.
This material is not intended as an offer or solicitation for the purchase or sale of any financial instrument or investment strategy. This material has been prepared for informational purposes only, and is not intended to be or interpreted as a recommendation. Any forecasts contained herein are for illustrative purposes only and are not to be relied upon as advice.
---
‹ Back