Blog
Inflation's Continued Onslaught
The personal income and outlays report issued by the Commerce Department at the end of May, as well as the recent strong jobs market report, suggested that peak inflation might be in the rear view mirror. Unfortunately, Friday's consumer price index update sent those dreams crashing down.
Market reaction was, unsurprisingly, highly negative, with most of the nearly 3% loss in the S&P 500 occurring in the first half hour of trading.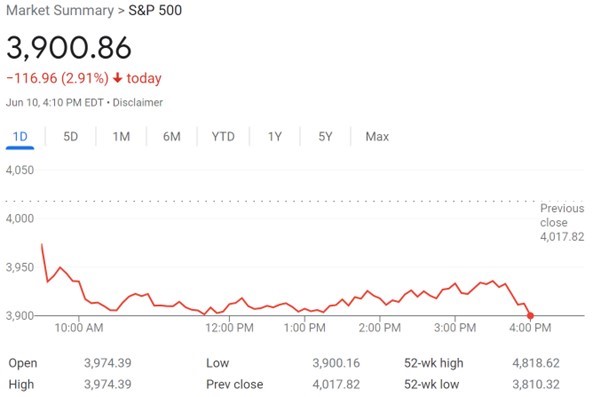 The inflation report showed that the consumer price index rose 8.6% from May 2021 to May 2022. Core inflation that excludes volatile food and energy prices rose 6.0%. Both of these numbers were above expectations of 8.3% and 5.9%. Real wages, which account for inflation, fell 0.6% and have fallen 3% over the past year. Besides energy and food, whose prices rose 3.9% and 1.2%, shelter saw its cost jump 0.6%, the largest monthly increase since 2004.
The Fed is likely to continue steadily raising rates, perhaps even more aggressively, with markets now viewing a 75bp June hike as a realistic possibility. The more strongly the Fed needs to act, the more likely we will enter into a recession, and the greater the risk that such a recession will entail the steep unemployment rise caused by sharp rate hikes in the 1980s. There have been other data points suggesting inflation was starting to soften, but Friday's report certainly gives legitimate cause to the market's recessionary fears. And unfortunately, with time to ponder the situation, markets have continued to take a grim view of the economic landscape on Monday, with the S&P down another 3% as of Monday afternoon.
###
JMS Capital Group Wealth Services LLC
417 Thorn Street, Suite 300 | Sewickley, PA | 15143 | 412‐415‐1177 | jmscapitalgroup.com
An SEC‐registered investment advisor.
This material is not intended as an offer or solicitation for the purchase or sale of any financial instrument or investment strategy. This material has been prepared for informational purposes only, and is not intended to be or interpreted as a recommendation. Any forecasts contained herein are for illustrative purposes only and are not to be relied upon as advice.
---
‹ Back