Blog
More on Recession Risk
Consumers and investors have been understandably grumpy this year. Inflation is high and markets, even including last week's rally, have fallen sharply in 2022. Nonetheless, as Lord Abbett's Timothy Paulson observes, negative sentiment may be running ahead of reality—to be sure, there are highly salient challenges for the US economy, but there are also strengths that should not be overlooked.
Consumer sentiment tends to be strongly tied to gas prices. This fact is understandable—changes in gas prices stand out, as people refuel regularly; moreover, as most people cannot change their driving habits quickly, increased prices will leave consumers little choice but to spend more of their household budgets on gasoline. Paulson provides a nifty chart illustrating the sentiment-gas price relationship: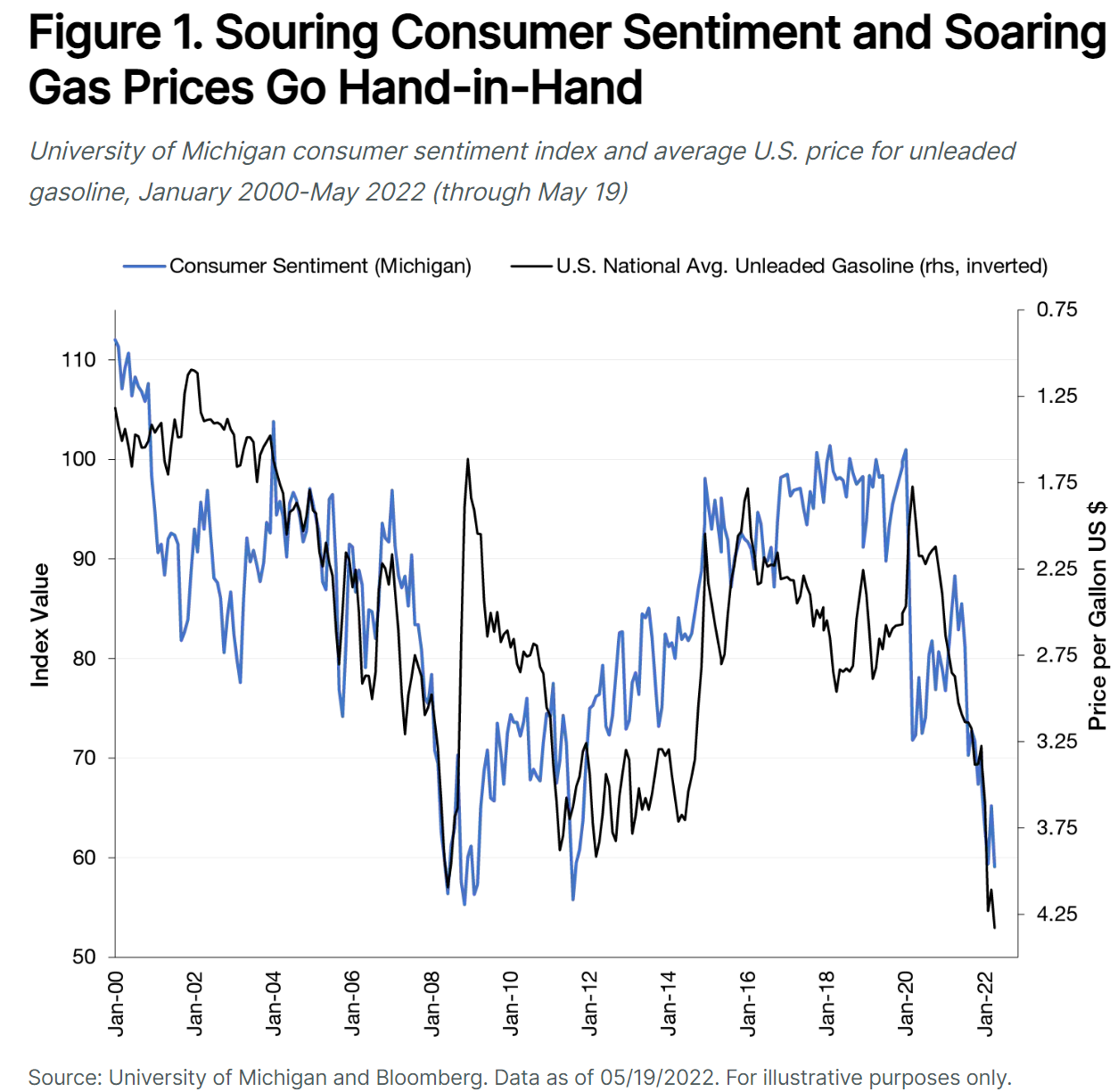 Individual sentiment is also quite bearish: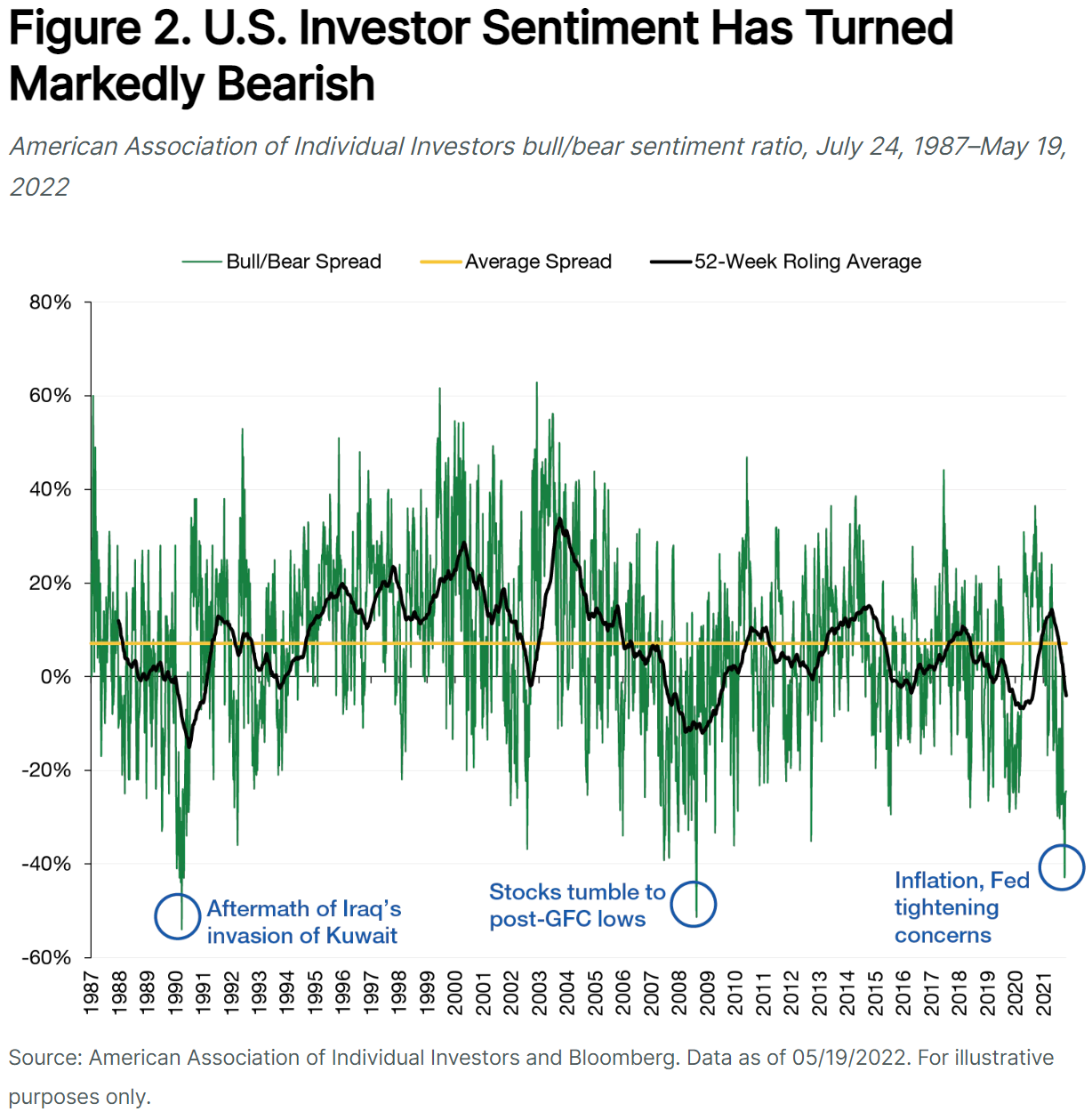 There are legitimate reasons for frustration and fear. Inflation has been eroding real wages, and induced a market environment in which the Fed is likely to prioritize curbing inflation over buttressing equities. Paulson acknowledges the negatives for consumers and investors, but also points out that however cranky consumers are, they haven't stopped spending: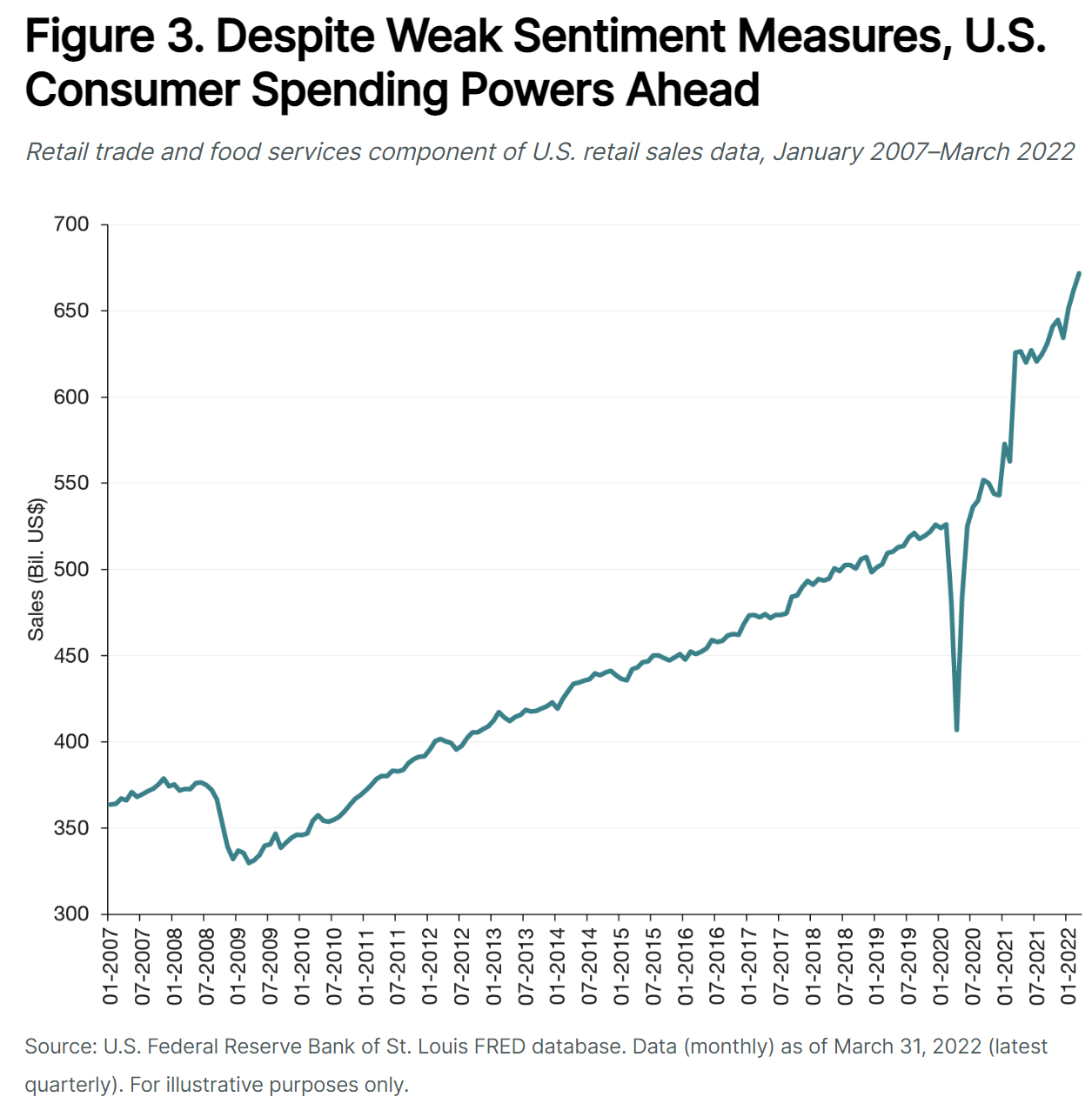 Paulson argues that the combination of high consumer spending, solid corporate earnings, and tight labor markets point to an economy that gives the Fed significant breathing space to raise rates without necessarily tipping the economy into recession. In other words, highly negative sentiment may not provide an accurate portrayal of our economic future. If Fed action can tame inflation without massive hikes in interest rates, then we may get the economic soft landing we've been hoping for. However, if a return to neutral interest rates leaves inflation diminished but still unacceptably high, then the Fed will be facing unappetizing choices between high inflation and higher unemployment, and consumer and market sentiment would have greater reason to remain dour.
###
JMS Capital Group Wealth Services LLC
417 Thorn Street, Suite 300 | Sewickley, PA | 15143 | 412‐415‐1177 | jmscapitalgroup.com
An SEC‐registered investment advisor.
This material is not intended as an offer or solicitation for the purchase or sale of any financial instrument or investment strategy. This material has been prepared for informational purposes only, and is not intended to be or interpreted as a recommendation. Any forecasts contained herein are for illustrative purposes only and are not to be relied upon as advice.
---
‹ Back