Blog
A Soft Landing?
A year ago it appeared likely that the cost of lowering inflation via tighter monetary policy would be a recession, and the reasonable hope was that such a recession would be mild. So far, though, so good—inflation, while still high, has been trending downward, while the economy and labor market have both shown surprising resilience. Indeed, the Fed's projections no longer forecast a recession.
Joseph Politano delves into recent economic data in great detail to further support the contention that the economy is well on its way to disinflation without a recession. GDP growth is still positive, while inflation, as illustrated by the gap between nominal and real GDP, is shrinking: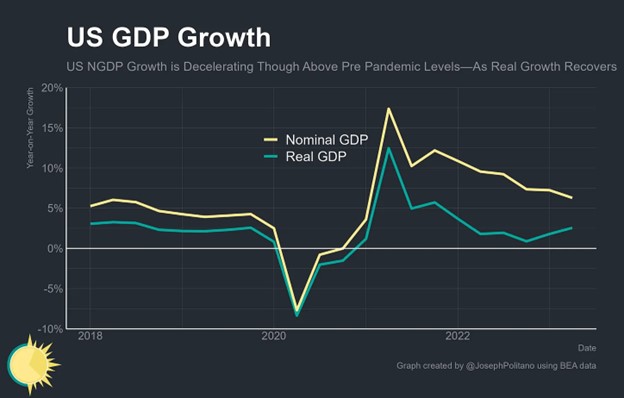 Labor income growth has been returning to normal as well: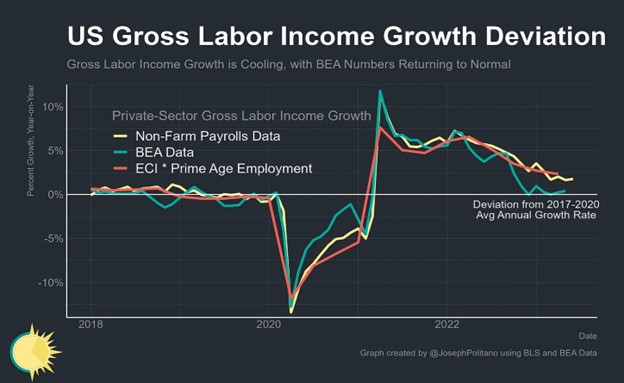 Tighter credit spreads may also indicate market concerns about recession risks, as well as the Silicon Valley Bank failure fallout, have eased: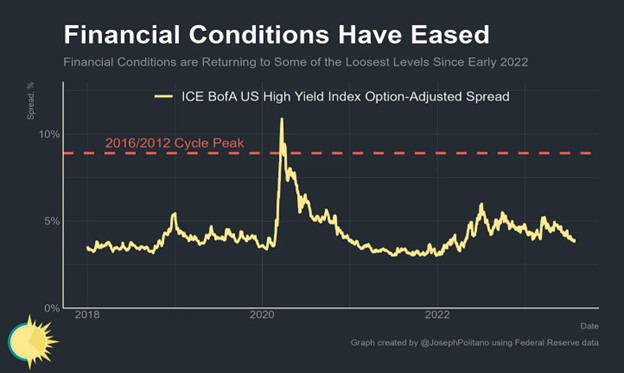 Core inflation is still elevated, at nearly 5%, though that number is likely to dip as shelter inflation is expected to ease over the coming months. It is also possible that wringing out the last 1%-2% of excess inflation may be the most difficult aspect of the inflation fight. Still, as Politano notes, the economic recovery from the COVID recession has been historically swift and strong: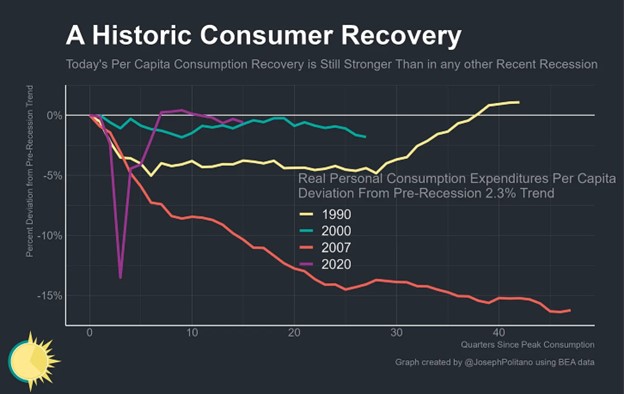 If inflation returns to normal over the coming year, the question of economic tradeoffs may shift. Instead of asking how much unemployment needs to rise in order to cool inflation, we could find ourselves asking how much inflation is acceptable to facilitate a fuller recovery from a recession. If the economy can stick the soft landing, the costs and pain from inflation, while significant, may prove to be less than feared in the longer term.
###
JMS Capital Group Wealth Services LLC
417 Thorn Street, Suite 300 | Sewickley, PA | 15143 | 412‐415‐1177 | jmscapitalgroup.com
An SEC‐registered investment advisor.
This material is not intended as an offer or solicitation for the purchase or sale of any financial instrument or investment strategy. This material has been prepared for informational purposes only, and is not intended to be or interpreted as a recommendation. Any forecasts contained herein are for illustrative purposes only and are not to be relied upon as advice.
---
‹ Back