Blog
Fed Update
Fed Update
5/9/22
The Fed continued its rate hike regime with a 50bp increase last Wednesday. While Fed Chair Jerome Powell indicated that future 75bp increases were unlikely, he commented that additional 50bp increases were on the table. In fact, according to CME group, markets are expecting 50bp rate increases at each of the next two Fed meetings in June and July. The hope is that normalization of rates to around 3% will be sufficient to normalize inflation; since the federal funds rate target range was 0-0.25% at the start of 2022, we have a ways to go still to get to 3%. The challenge for the Fed will be what to do if the federal funds rate is 3%, inflation is still high, and unemployment is rising, but there's no need now for the Fed to try to cross that bridge until they get to it.
Powell also outlined the Fed's path for reducing its $9 trillion balance sheet. The Fed's plan is to roll off up to about $50 billion in treasuries and mortgage-backed securities for each of the next 3 months, then up to about $100 billion per month thereafter.
The market's reaction shows that you can't assume that first impressions will have a lasting impact: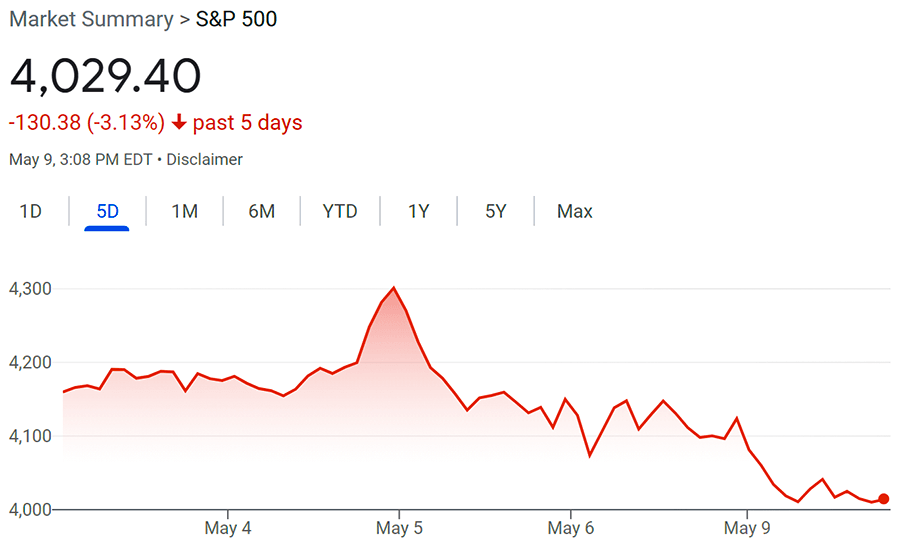 The spike in the middle is the market's movement immediately post-announcement, with a peak at 4pm last Wednesday. Unfortunately, the idea that markets were soothed by the Fed's announcement quickly disappeared with the S&P 500's 6% drop. The Fed is seeking to cool the economy through interest rate hikes and reduction of its balance sheet; markets have cooled as well in anticipation of leaner times. What we don't know yet is whether markets will now stabilize, or if they will fall still further.
###
JMS Capital Group Wealth Services LLC
417 Thorn Street, Suite 300 | Sewickley, PA | 15143 | 412‐415‐1177 | jmscapitalgroup.com
An SEC‐registered investment advisor.
This material is not intended as an offer or solicitation for the purchase or sale of any financial instrument or investment strategy. This material has been prepared for informational purposes only, and is not intended to be or interpreted as a recommendation. Any forecasts contained herein are for illustrative purposes only and are not to be relied upon as advice.
---
‹ Back