Blog
Russia and Clean Energy
Global crises can have unintended consequences. One potential outcome of Russia's invasion of Ukraine is the acceleration of clean energy production, as Europe seeks to wean itself off dependence on Russian natural gas. Noah Smith's interview with Ramez Naam delves into this and much more on future energy production and technology.
First, though, why natural gas and not oil? Russia exports a significant amount of natural gas, but its oil exports are much larger: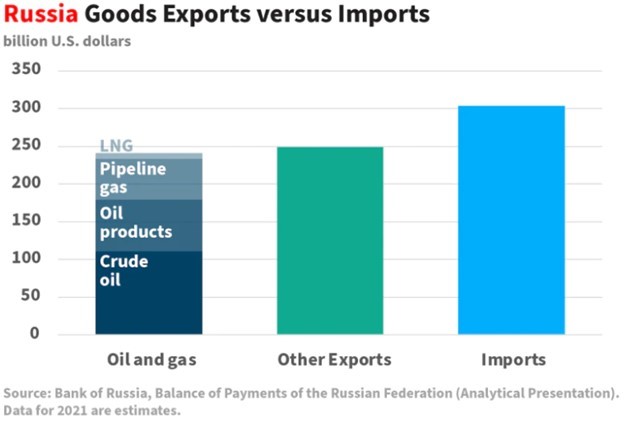 Oil may generate more revenue, but natural gas production and transportation is more inflexible. Naam observes that shipping natural gas across oceans requires cooling it to -160 degrees Celsius, and that it's more cost-effective to transport gas via pipeline. Importation of Russian gas via pipeline is then a double-edged sword—in the short run, Europe has a limited ability to replace Russian natural gas imports, but in the long run, if Europe can derive more heat and electricity from alternative energy sources, then Russia will face the challenge of either accepting lower prices, or having to construct a way to transport its gas elsewhere.
Naam's central argument is that Europe's efforts in this decade to shift away from natural gas dependence is likely to spur a virtuous cycle, in which expanding clean energy production makes future clean energy cheaper. The mechanism would be the learning curve—greater technological production leads to better understanding and efficiency, which leads to lower costs, which then results in greater production. Naam has documented how strongly the learning curve model has applied to solar energy, and anticipates its continued success for solar and other aspects of energy markets, including wind energy and electric heat pumps.
So far, Putin's war appears to have made greater progress in reinvigorating and potentially expanding NATO, with the possible additions of Finland and Sweden, than in acquiring Ukrainian territory. If the war expedites European adoption of new energy technologies, and helps overcome political resistance to change, then the Russian invasion of Ukraine may end up accelerating the adoption of new ways to produce and consume energy across the globe.
###
JMS Capital Group Wealth Services LLC
417 Thorn Street, Suite 300 | Sewickley, PA | 15143 | 412‐415‐1177 | jmscapitalgroup.com
An SEC‐registered investment advisor.
This material is not intended as an offer or solicitation for the purchase or sale of any financial instrument or investment strategy. This material has been prepared for informational purposes only, and is not intended to be or interpreted as a recommendation. Any forecasts contained herein are for illustrative purposes only and are not to be relied upon as advice.
---
‹ Back