Blog
Finally, Good Inflation News
Thursday's inflation report contained the good news that markets and the Fed were hoping for. With the obvious caveat that it's only one month of disinflationary data, it's about as good a data point as could be expected.
Inflation is still high, at 7.7% year-over-year, but that number represents improvement: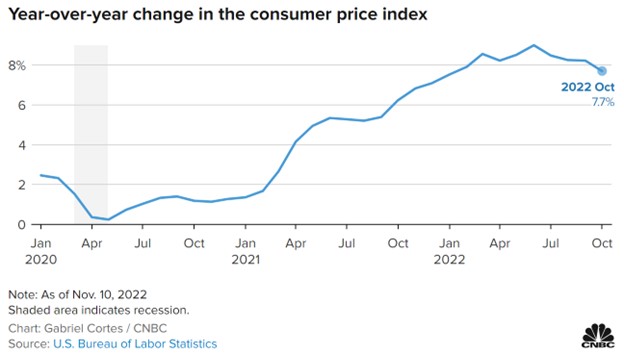 The core consumer price index, which excludes more volatile food and energy prices, rose 0.3% for the month, or 6.3% year-over-year, whereas estimates from Dow Jones were 0.5% and 6.5%, respectively.
0.3% monthly inflation still translates into an annual inflation rate well above the Fed's 2% target, so inflation certainly has a long way to come down. The hope, though, is that inflation has peaked, and that previous Fed rate hikes are working their way through the economy to drop that number further.
While markets are not anticipating the Fed to turn dovish in the near future, expectations for the Fed's December meeting have shifted, so that a 50bp rate hike now is deemed more likely than another 75bp rate increase. Treasury rates also plummeted, with the 2-year, 10-year, and 30-year rate each dropping between 25bp and 30bp the day the inflation report was issued. The S&P 500 surged 5% as well:
It's not so much that inflation is at an end, but the hope is that it's at the beginning of the end. Markets are forward looking in nature, and after the bludgeoning stocks and bonds have taken in 2022, they may finally be starting to see a little light at the end of the tunnel.
###
JMS Capital Group Wealth Services LLC
417 Thorn Street, Suite 300 | Sewickley, PA | 15143 | 412‐415‐1177 | jmscapitalgroup.com
An SEC‐registered investment advisor.
This material is not intended as an offer or solicitation for the purchase or sale of any financial instrument or investment strategy. This material has been prepared for informational purposes only, and is not intended to be or interpreted as a recommendation. Any forecasts contained herein are for illustrative purposes only and are not to be relied upon as advice.
---
‹ Back