Blog
How Low Can We Go?
2022 has not been a good year for markets. This past week we finally entered bear market territory, as the S&P 500's losses eclipsed the 20% mark: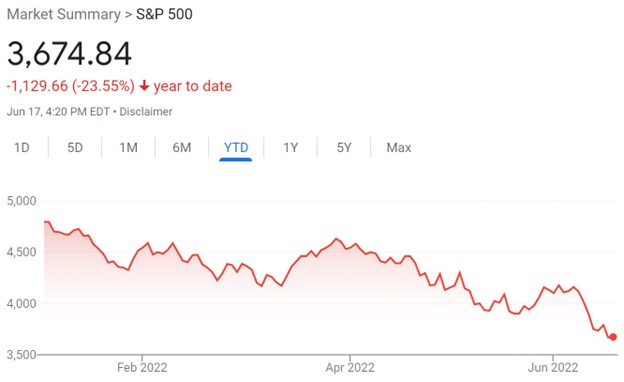 Russia's invasion of Ukraine and its energy price fallout, China's continued COVID lockdowns, and above all, inflation, have forced the Fed's hand into aggressively hiking interest rates, as it did again last week with a 75bp increase that wasn't even on the table a month ago.
For markets, though, the question is whether we have bottomed out, or whether we still have further to fall. Leuthold provides a few possible scenarios, and unfortunately, as bad as 2022 has been, there is potential for it to get significantly worse.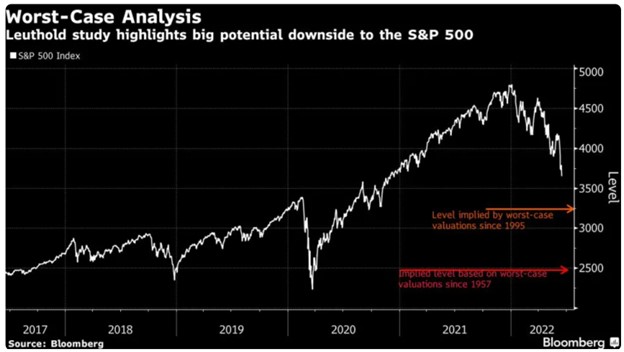 Bloomberg's Lu Wang describes the bad-case scenarios outlined by Leuthold, and the picture is not a pretty one. As Wang observes, Leuthold's models rely heavily on historical valuations, and valuations have been elevated for many years, and even more so during the pandemic recovery.
A starting point of high valuations means that there is that much more room to fall. The chart above lists two projections that are each based on valuations falling to the 25% percentile of their historical norms. The large discrepancy between the bad case (orange line) and the worse case (red line) is derived from how far back we look into the S&P's history. Using data from 1957 onwards leads Leuthold to project an implied S&P level of 2500; if the starting point is changed to 1995, the drop is only to about 3300, as higher multiples over recent decades means that "normal" valuations would be higher than what they were 50 years ago.
Whatever the correct historical comparison would be, if we focus on valuations, Leuthold's analysis makes clear that there is still significant potential downside to equities markets. Leuthold's pessimism is not universally shared, however. In fact, Dubravko Lakos, global head of equity macro research at JPMorgan, stated earlier this month that he believed the S&P would rebound to 4900 later this year. Such diversity of expert opinion suggests that a balanced portfolio may be best, rather than a heavy bet on whether the remainder of 2022 will deepen the bear market or reignite the bull.
###
JMS Capital Group Wealth Services LLC
417 Thorn Street, Suite 300 | Sewickley, PA | 15143 | 412‐415‐1177 | jmscapitalgroup.com
An SEC‐registered investment advisor.
This material is not intended as an offer or solicitation for the purchase or sale of any financial instrument or investment strategy. This material has been prepared for informational purposes only, and is not intended to be or interpreted as a recommendation. Any forecasts contained herein are for illustrative purposes only and are not to be relied upon as advice.
---
‹ Back