Blog
Supply Chain Under Strain
Fed Chair Jerome Powell has regularly expressed the hope that the current inflation spike would be transitory. He may well be proven correct, but a key inflation risk factor has remained stubbornly persistent. Supply chains continue to have difficulty recovering as the global economy revives from its COVID-19 induced slumber; recent Bloomberg and Wall Street Journal articles detail some of the challenges currently facing the global economy.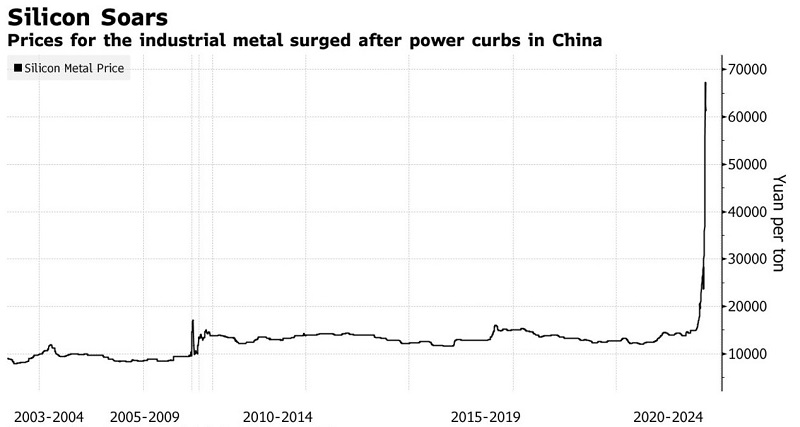 Source: China Nonferrous Metals Industry Association, Bloomberg
Silicon prices have risen over 300% in the past 2 months. Silicon is an element that is used in an incredible variety of industries and products—from computer chips to car parts, from glass to solar panels, from (after conversion to silicone) medical implants to deodorants to oven mitts. The silicon shortage is the result of Chinese supply cuts, which themselves stem from a power shortage in China. China is the largest producer of silicon in the world, so cutbacks there will be felt globally.
Silicon isn't the only commodity whose price has spiked—oil, aluminum, copper, and magnesium have all become more expensive, and these material price increases then cascade through global supply chains across numerous industries, where producers and retailers face the unenviable choice of eating increased costs or attempting to pass them onto consumers.
Why is there a power shortage in China? Domestic coal prices have risen while coal imports have been cut. Power companies have official caps on the prices they can charge, so they have cut production instead of raising prices. Renewable energy from hydroelectric sources and wind have been plagued by drought and low output. Some Chinese provinces failed to meet energy efficient targets, so some high-energy industries began to see their power rationed.
Supply chain challenges and pockets of inflation appear likely to persist for the near term, as economic dependency on China is significant enough that when China coughs, the world catches a cold. The hope is that production and prices normalize over time, as lumber did after a price spike in the spring. The nightmare would be stagflation, a combination of stagnation and inflation last seen after the oil shocks of the 1970s. There's not a quick and easy fix via fiscal or monetary policy for global supply issues, so we hope, along with Jerome Powell, that inflation and commodity concerns prove transitory in nature and limited in scope.
###
JMS Capital Group Wealth Services LLC
417 Thorn Street, Suite 300 | Sewickley, PA | 15143 | 412‐415‐1177 | jmscapitalgroup.com
An SEC‐registered investment advisor.
This material is not intended as an offer or solicitation for the purchase or sale of any financial instrument or investment strategy. This material has been prepared for informational purposes only, and is not intended to be or interpreted as a recommendation. Any forecasts contained herein are for illustrative purposes only and are not to be relied upon as advice.
---
‹ Back