Blog
The S&P 500 Basket
While mid cap stocks, small cap stocks, developed international, and emerging markets all ended the third quarter of 2023 with positive single digit returns, large cap stocks led the way, as the S&P 500 gained over 13% through September 30th. As CNBC's Ryan Ermey observes, though, the S&P 500's gains have been unusually concentrated within a handful of stocks.
Emrey writes about the 'Magnificent Seven' stocks, whose members are Alphabet, Amazon, Apple, Meta, Microsoft, Nvidia, and Tesla. How important have these stocks been to the S&P 500's strong year?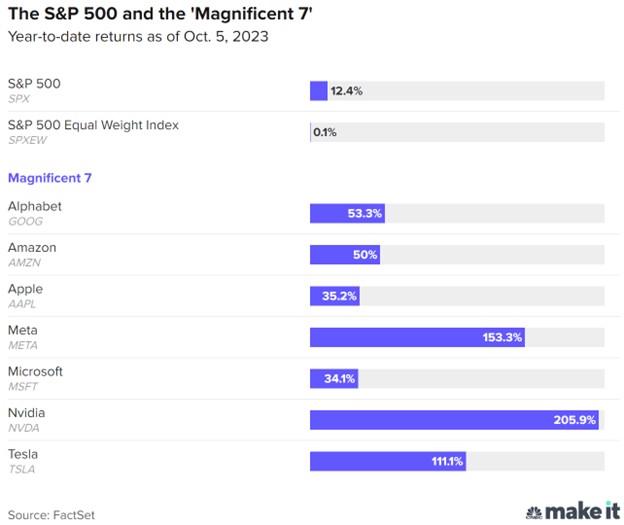 If all stocks in the S&P 500 were weighted equally, the S&P 500 would no longer have a 12.4% return, and would instead be roughly flat through October 5th. The Magnificent Seven have returned an average of 92% through that date, and since these companies are so large, they have an enormous influence on the S&P 500, which is market cap weighted. In fact, the weight of the top ten stocks in the S&P 500, as measured by market cap, is the highest that it's been in at least the last 25 years, and has surpassed the weight during the tech bubble at the turn of the century.
The hope is that the rest of the S&P 500 can catch up to the Magnificent Seven; the fear is that these top companies will fall back to the back. Unfortunately, in October, Alphabet and Nvidia have lost nearly 10%, while Tesla has lost about 20%. A hazard of a concentrated S&P 500 is that it isn't as well diversified as in years past, so that the performance of a few stocks can have an outsized impact. Fortunately, there are enough other areas of investments, such as small and mid caps, and developed and emerging markets stocks and bonds, that one need not put too many eggs in the S&P basket.
###
JMS Capital Group Wealth Services LLC
417 Thorn Street, Suite 300 | Sewickley, PA | 15143 | 412‐415‐1177 | jmscapitalgroup.com
An SEC‐registered investment advisor.
This material is not intended as an offer or solicitation for the purchase or sale of any financial instrument or investment strategy. This material has been prepared for informational purposes only, and is not intended to be or interpreted as a recommendation. Any forecasts contained herein are for illustrative purposes only and are not to be relied upon as advice.
---
‹ Back