Blog
A Look Back at Short Selling
Barry Ritholtz reminisces about lessons he learned about short selling back before the financial crisis of 2008. Betting on a stock going down is going against the grain of markets rising over time, and even if you've somehow identified a problem in a stock that the market has either overlooked or incorrectly priced, it's notoriously difficult to time when a stock will fall. Ritholtz provides 2 famous examples of crashing stocks. First, from 2001, is Enron, via Douglas O. Linder: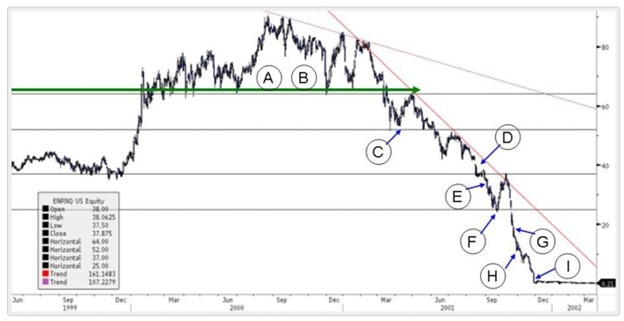 Ritholtz notes that research reports were being issued by short sellers for years prior to Enron's collapse. Maintaining a short position in 1999 and 2000 would have been challenging. Even 2001 contained a series of rebounds amidst the stock's fall, so that there were many pain points for short sellers that year, even though the company ultimately filed for bankruptcy in December of 2001.
Ritholtz also cites the example of the collapse of Lehman Brothers at the onset of the financial crisis of 2008. Again, even if you had doubts about Lehman Brothers, and stocks in general, the downward path was a bumpy one: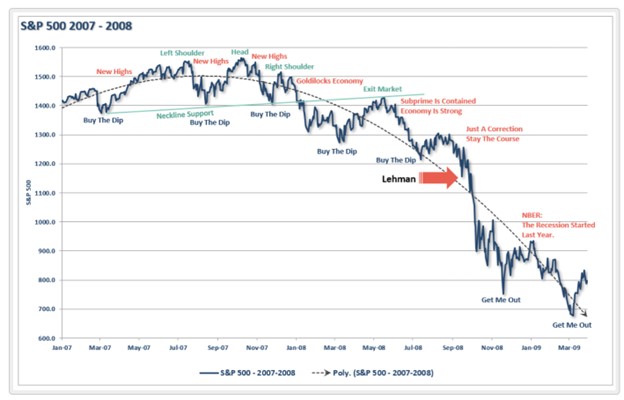 Besides the challenge of timing, Ritholtz also describes the media environment as focused on numerous potential saviors of Lehman brothers, any one of whom could have been a short seller's nightmare. In particular, Ritholtz adds in a footnote that Lehman CEO Dick Fuld turned down a deal from Berkshire Hathaway's Warren Buffett as too expensive (while Goldman Sachs, on the other hand, accepted a deal with Buffett). So perhaps the inevitable downfall of Lehman was not as inevitable as we imagine. Unfortunately, conditions for shorts may typically be as Russell Clark describes, at least for popular (or what he calls "consensus") shorts—they destroy short sellers on the way up, and momentum or retail investors on the way down, with insiders who sold at the right time as the only beneficiaries.
###
JMS Capital Group Wealth Services LLC
417 Thorn Street, Suite 300 | Sewickley, PA | 15143 | 412‐415‐1177 | jmscapitalgroup.com
An SEC‐registered investment advisor.
This material is not intended as an offer or solicitation for the purchase or sale of any financial instrument or investment strategy. This material has been prepared for informational purposes only, and is not intended to be or interpreted as a recommendation. Any forecasts contained herein are for illustrative purposes only and are not to be relied upon as advice.
---
‹ Back