Blog
The Dot Plot's Not
While the Fed, as expected, chose to leave the federal funds rate unchanged at its meeting last week, it released new projections that suggest an increased hawkish turn, with the number of rate cuts anticipated next year falling from 4, as projected in June, to only 2. The increased likelihood of the Fed keeping rates higher for longer has percolated through markets, with long-term Treasury rates rising and the S&P 500 falling over the past week.
While the revised dot plot understandably has had market repercussions, as it should, it is important to remember that the dot plot represents a snapshot of Fed members' views at a moment in time. In other words, as circumstances change, the future can diverge significantly from previous expectations. Barry Ritholtz shows how far and how frequently reality has diverged from the Fed's projections.
When inflation started to spike Fed chair Jerome Powell spoke of inflation as likely transitory, and while inflation may yet cool with a soft landing for the economy, it is clear that the Fed underestimated the rise of inflation: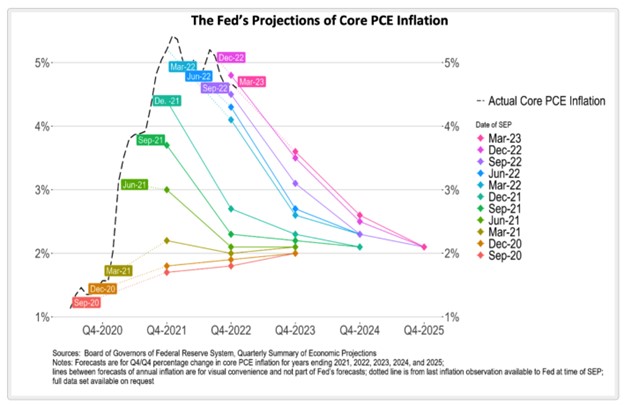 Most notably, the projections for 2021 and 2022 grossly underestimated the rise of inflation. Even in December 2021 the Fed believed core PCE inflation would fall to under 3% by the end of 2022. Not surprisingly, given that the Fed's inflation predictions were off, its federal fund rates predictions also missed the mark, as demonstrated by its projections from March of 2022: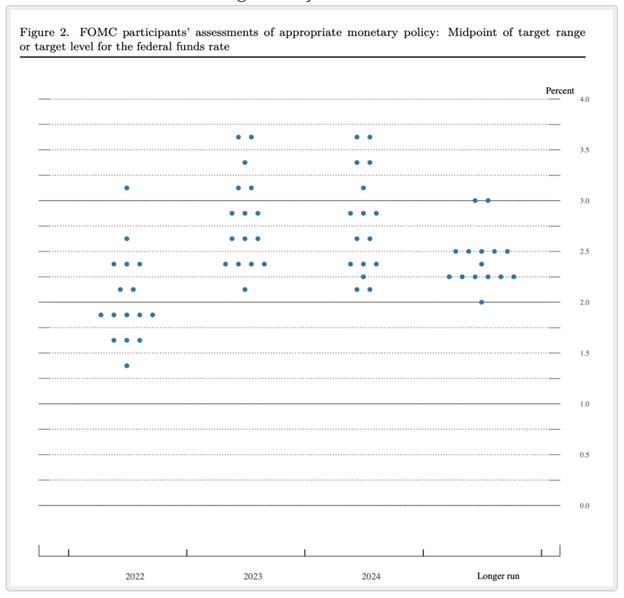 Source: Federal Reserve
If we go back further in time, we find that Fed projections in June of 2016 foretold the Fed's intent to normalize rates above the 3% mark, but after increasing the federal funds rate to over 2% in 2018 it reversed course and dropped rates 75bp in 2019 and another 150bp, to 0%-0.25%, when COVID hit in March of 2020.
None of this historical lookback is meant to knock the Fed. Its members are making their best estimates of the future given the information they have at the time. Jerome Powell acknowledged that due to high uncertainty, dot plots should always be taken with a heavy grain of salt.
Ritholtz titled his post, "Nobody Knows Anything, Dot Plot Edition." It's another concession that nobody has a crystal ball foretelling the future. As far as Fed rate projections go, we should keep in mind that circumstances could dictate a much more hawkish or dovish outcome than currently believed. As far as portfolios go, the gap between prediction and reality is yet another affirmation that portfolios should aim for resilience under a variety of market conditions rather than gamble on a particular vision of the future.
###
JMS Capital Group Wealth Services LLC
417 Thorn Street, Suite 300 | Sewickley, PA | 15143 | 412‐415‐1177 | jmscapitalgroup.com
An SEC‐registered investment advisor.
This material is not intended as an offer or solicitation for the purchase or sale of any financial instrument or investment strategy. This material has been prepared for informational purposes only, and is not intended to be or interpreted as a recommendation. Any forecasts contained herein are for illustrative purposes only and are not to be relied upon as advice.
---
‹ Back