Blog
Have Yield Peaked?
We have seen a remarkable rise in Treasury yields over the past 2 years. At the beginning of 2022 the 10-year rate was 1.63% and the 30-year rate was 2.01%. As of September 15th, 2023, these rates had risen to 4.33% and 4.42%, respectively. Still, with the Fed's hiking cycle likely nearing its end, it's worth addressing the possibility that rates may begin to fall over the coming months. Matthew Sheridan and Monika Carlson at AllianceBernstein suggest that economic conditions are becoming ripe for a potential fall in Treasury yields.
Sheridan and Carlson cite three precursors for falling rates, and see evidence for each of them. Inflation has been declining in recent months. The labor market has also shown evidence of softening: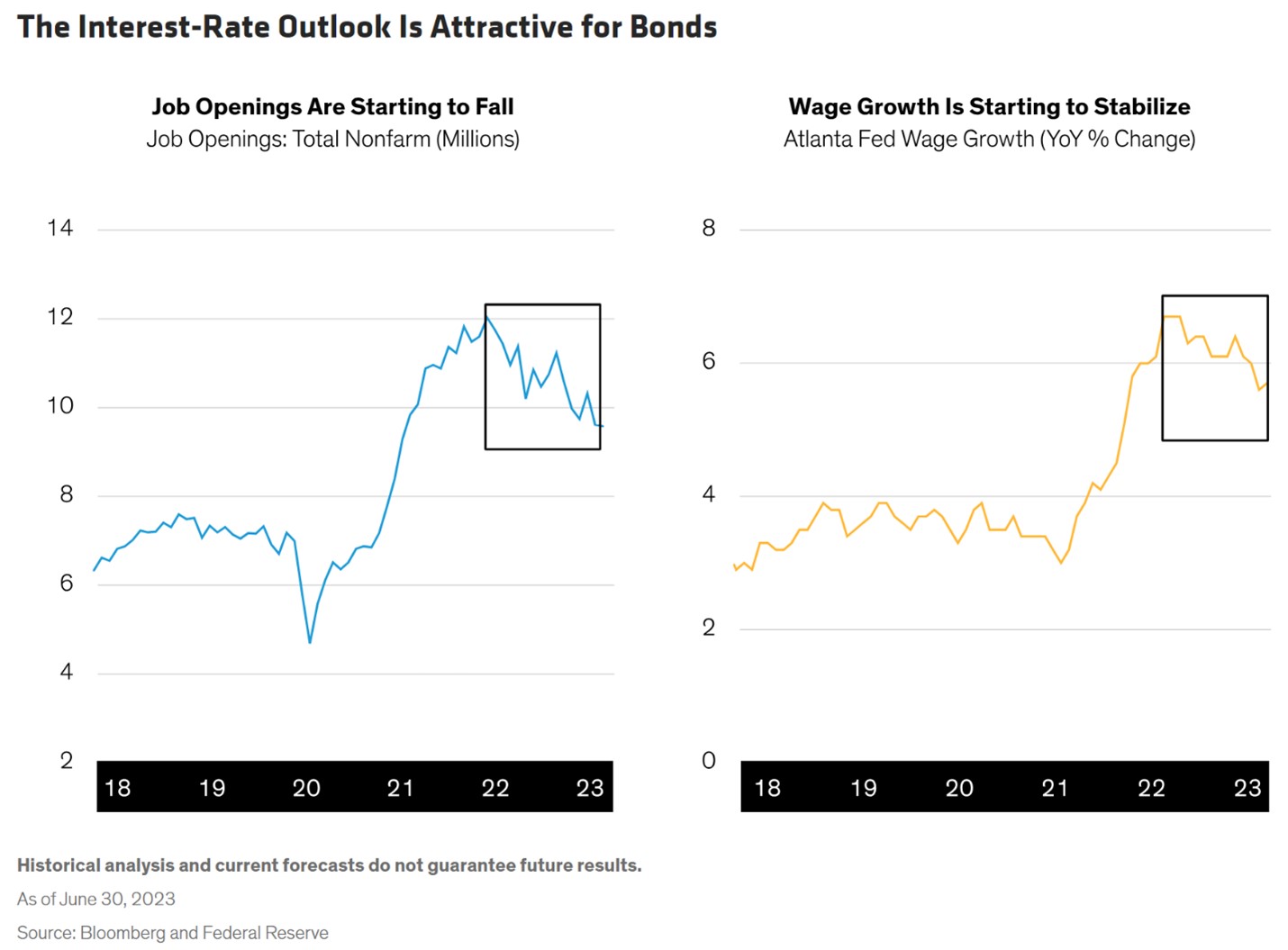 Finally, the authors note that regional banks may face increased liquidity pressure in the coming year, as the Fed's Bank Term Funding Program is due to expire in March.
Additional macroeconomic factors may come into play. Sheridan and Carlson cite the high US deficit, which may lead to budget tightening, as well as weakening business sentiment, as the most recent Purchasing Managers' Index was unexpectedly low last month. If the economy looks to be tipping into recession, the Fed may shift to cutting rates, especially if recent progress against inflation gains momentum.
While bond markets endured extreme pain in 2022, current elevated rates may provide a more attractive environment for new investments in fixed income. Although persistent inflation could fuel even higher rates, Sheridan and Carlson suggest that Treasury rates may have peaked, and forecast a fall in the 10-year Treasury rate to the 3.5%-4.0% range by year's end.
###
JMS Capital Group Wealth Services LLC
417 Thorn Street, Suite 300 | Sewickley, PA | 15143 | 412‐415‐1177 | jmscapitalgroup.com
An SEC‐registered investment advisor.
This material is not intended as an offer or solicitation for the purchase or sale of any financial instrument or investment strategy. This material has been prepared for informational purposes only, and is not intended to be or interpreted as a recommendation. Any forecasts contained herein are for illustrative purposes only and are not to be relied upon as advice.
---
‹ Back