Blog
A Manufacturing Boomlet
Part of the intent behind the Chips and Science Act and the Inflation Reduction Act, each passed by Congress last summer, was to boost manufacturing in semiconductors, manufacturing, construction, and renewable energy. Perhaps not coincidentally, factory construction has risen sharply this year, as Noah Sheidlower observes.
Construction spending by US manufacturers has more than doubled over the past year, whereas construction spending in other areas of the economy has mostly fallen, and residential construction has also declined.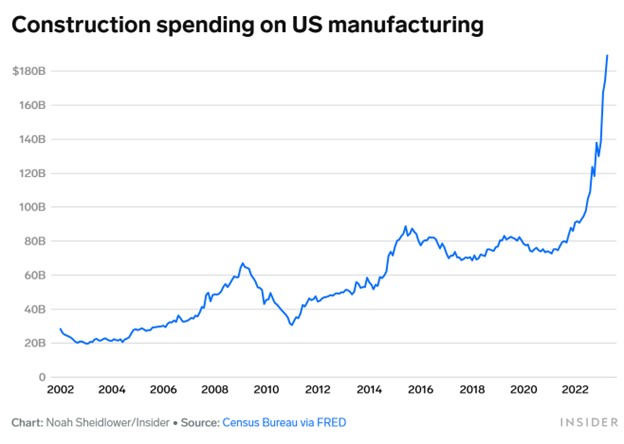 Manufacturing employment has also increased by about 800,000 jobs over the past two years, though it is still far from its peak:

And manufacturing jobs may become even more plentiful in the near term—in fact, Sheidlower cites concern from the National Association of Manufacturers of a shortfall of skilled manufacturing workers, potentially leading to 2.1 million unfilled jobs by 2030.
Of course, spending money is not the same thing as building stuff. High US infrastructure costs and regulatory barriers may limit the ability of companies to convert dollars into factories. Nonetheless, if the country is moving from a free trade consensus to a new industrial policy, as Noah Smith argues, the current construction boomlet may be an early sign of such a shift.
###
JMS Capital Group Wealth Services LLC
417 Thorn Street, Suite 300 | Sewickley, PA | 15143 | 412‐415‐1177 | jmscapitalgroup.com
An SEC‐registered investment advisor.
This material is not intended as an offer or solicitation for the purchase or sale of any financial instrument or investment strategy. This material has been prepared for informational purposes only, and is not intended to be or interpreted as a recommendation. Any forecasts contained herein are for illustrative purposes only and are not to be relied upon as advice.
---
‹ Back