Blog
Labor and Inflation: From Top to Bottom
Goldman Sachs's Maria Vassalou and Amy Yihan Zhou have an interesting breakdown of inflation and labor markets. Their key argument is that monetary policy, while effective at countering cyclical demand-driven inflation, has a more limited ability to affect other potential causes of inflation.
They note that inflation appears to have become less responsive to economic slack, which would then suggest that a significant increase in unemployment could be required to tame inflation. Vassalou and Zhou divide inflation into goods inflation and services inflation: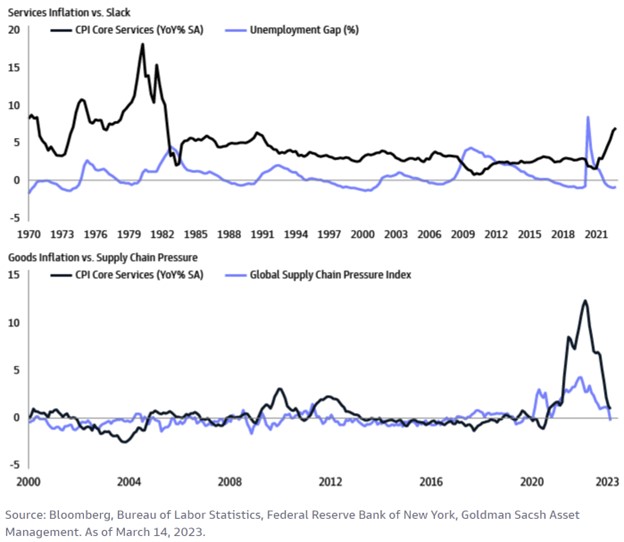 They connect goods inflation to supply chain dynamics, and from the graph we can see that as supply chain pressure has fallen, goods inflation has dropped sharply. They also tie services inflation to labor market slack, as the hot labor market corresponds with high inflation. However, Vassalou and Zhou also observe that wage growth has varied greatly by region: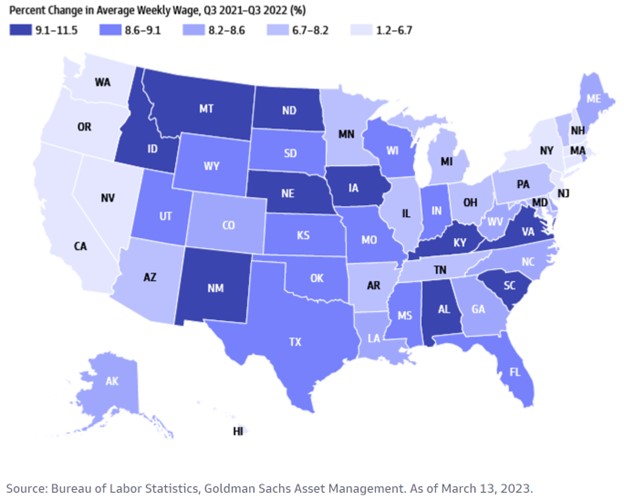 While the Fed has brought the hammer in terms of hiking rates, there may be other tools that can help with mitigating inflation. Vassalou and Zhou hypothesize that fiscal and government programs may be able to better address sectoral and regional disparities, perhaps in conjunction with further immigration, digitalization, and technological progress.
Given our divided government, it's hard to imagine much in the way of fiscal and government programs over the next two years, and a sharp increase in immigration seems unlikely as well. Nonetheless, while the Fed is working to cool inflation via monetary tightening, additional methods of combating inflation would be welcome, if feasible.
###
JMS Capital Group Wealth Services LLC
417 Thorn Street, Suite 300 | Sewickley, PA | 15143 | 412‐415‐1177 | jmscapitalgroup.com
An SEC‐registered investment advisor.
This material is not intended as an offer or solicitation for the purchase or sale of any financial instrument or investment strategy. This material has been prepared for informational purposes only, and is not intended to be or interpreted as a recommendation. Any forecasts contained herein are for illustrative purposes only and are not to be relied upon as advice.
---
‹ Back