Blog
Remembrance of Bears Past
Barry Ritholtz shows one of his favorite charts that traces out the paths of historical bear markets: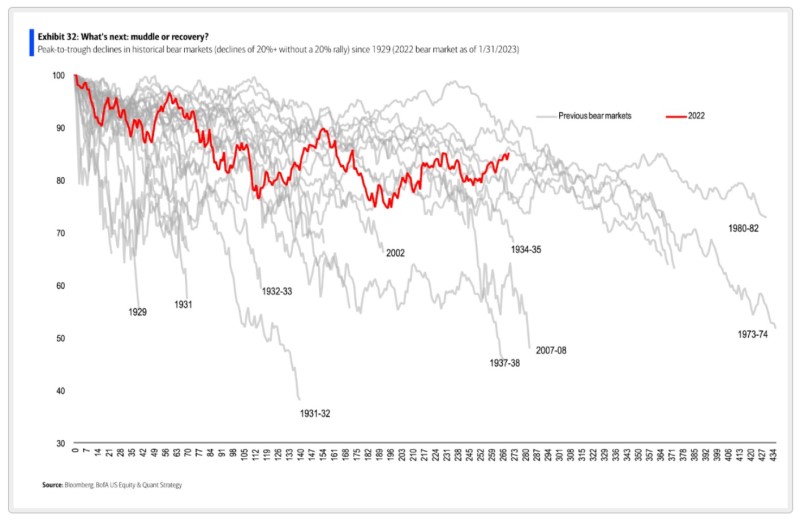 The chart isn't in the article to try to project the path of markets going forward—it's there to point out that bear markets have been part of the equities landscape for decades. During his professional lifetime, Ritholtz has endured significant downturns in 1990, 1998, 2000, 2007, 2018, 2020, and 2022.
Ritholtz's observation: the downturns that he felt were the most painful were the early ones, in which he financially had little at stake, and a great deal of time to recoup any losses. In contrast, he and his firm have in recent years been in the position where they lose millions during a bear market, yet Ritholtz finds himself unruffled by such circumstances. Why? Ritholtz notes that long-term equity returns of 8%-10% are likely to be characterized both by periods of rapid gains and times of significant declines. In other words, Ritholtz accepts that everything is cyclical, so that bear markets are something that investors will have to experience from time to time. Though we may have no control over market movements, Ritholtz speculates that we may have some influence as to how we psychologically process downturns, and that how we respond to challenges and opportunities may be a key to success or failure in our endeavors.
###
JMS Capital Group Wealth Services LLC
417 Thorn Street, Suite 300 | Sewickley, PA | 15143 | 412‐415‐1177 | jmscapitalgroup.com
An SEC‐registered investment advisor.
This material is not intended as an offer or solicitation for the purchase or sale of any financial instrument or investment strategy. This material has been prepared for informational purposes only, and is not intended to be or interpreted as a recommendation. Any forecasts contained herein are for illustrative purposes only and are not to be relied upon as advice.
---
‹ Back