Blog
A View of the Markets
Domestic and international markets have had a strong beginning to 2023, with the S&P 500 rising over 6% in January, and developed international and emerging markets each gaining about 8% for the month. Where do we go from here? JPMorgan's Richard Madigan outlines his views; after the many fluctuations in markets over the past 3 years, we may be entering a year which is more carefully calibrated.
Madigan notes that inflation has cooled, growth has been tolerable, and China's end of its zero-COVID policy has the potential to yield further growth. However, higher growth may result in higher demand and higher inflation, though a Chinese reopening could also reduce supply chain snarls. Global inflation also may have peaked: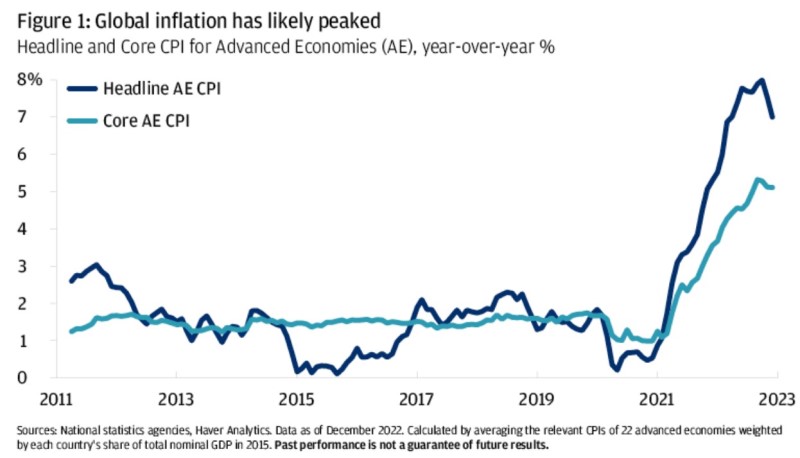 Still, although inflation is heading in the right direction, it remains well above target. Madigan argues that central banks are looking to preserve their options—while they have slowed rate hikes and may even pause them soon, central banks could then maintain higher rates for many months, or even resume rate increases if need be.
Madigan argues that the runup in equities over the past few months reflects a view that the US economy will achieve a relatively soft landing. While he agrees with that assessment as a base case, he also regards a hard landing as still a realistic possibility. And while recent earnings reports have been reasonable, US corporate margins are still above their longer-term averages: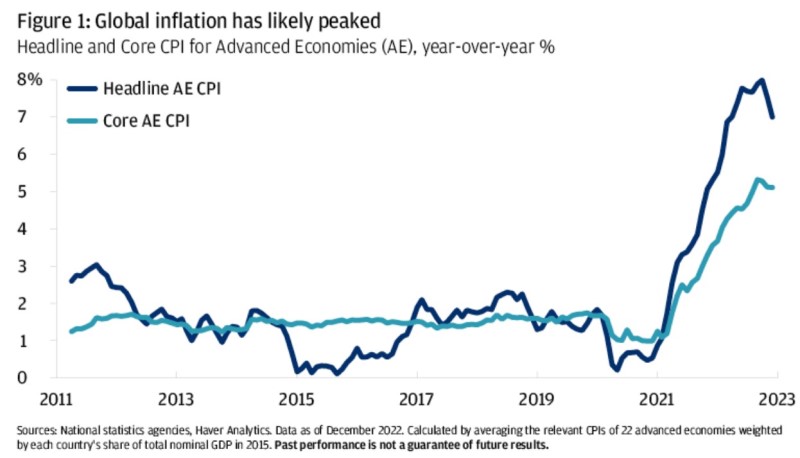 Madigan titled his piece "A Glimmer of Hope," and this title accurately reflects his nuanced views. The economic outlook is brighter, but the path of inflation is murky. Inflation may have peaked, but central banks may need to keep their feet on the economic brakes for a while. There's justification for higher valuations, but some areas of the market are no longer cheap. Given the uncertain path forward of so many economic variables, a careful, balanced viewpoint may be the most accurate perspective we can glean right now.
###
JMS Capital Group Wealth Services LLC
417 Thorn Street, Suite 300 | Sewickley, PA | 15143 | 412‐415‐1177 | jmscapitalgroup.com
An SEC‐registered investment advisor.
This material is not intended as an offer or solicitation for the purchase or sale of any financial instrument or investment strategy. This material has been prepared for informational purposes only, and is not intended to be or interpreted as a recommendation. Any forecasts contained herein are for illustrative purposes only and are not to be relied upon as advice.
---
‹ Back