Blog
Supply Chains and Inflation
Bloomberg's Laura Curtis traces the path of supply chains over recent years and assesses their place in the inflation run-up. Supply chains are not a monolith, and Curtis observes that even the price paths of global shipping showed significant heterogeneity: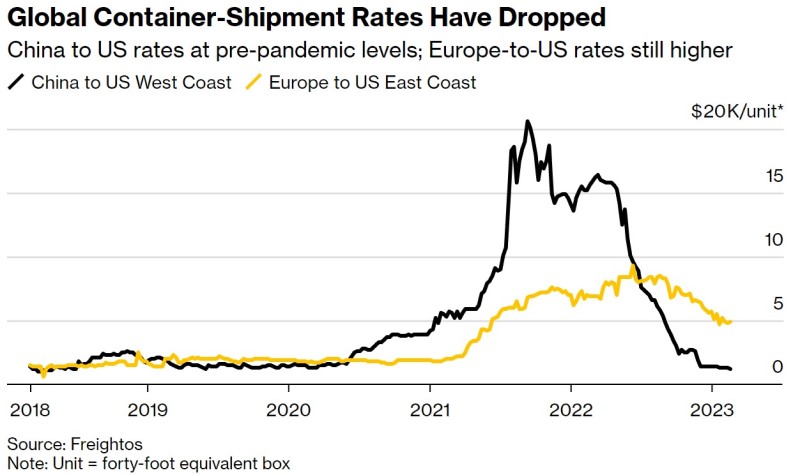 China-to-US container shipping prices skyrocketed 15-fold during COVID, but have since fallen to pre-COVID levels, whereas Europe-to-US prices rose less sharply during the pandemic but have remained elevated. Curtis also notes that shipping contracts are often long-term in nature, so a drop in spot market prices would take time to percolate through the industry. In terms of broader supply chains, companies typically do not adjust prices more than once or twice per year, so any inflation or disinflation takes time to be absorbed into the system.
Still, despite the lagged impact of supply chain price changes, and despite continued high labor costs, commodity price inflation has dropped over recent months. Curtis observes that despite the understandable focus on logistics during the onset of the pandemic inflation surge, our current inflation situation is now very different: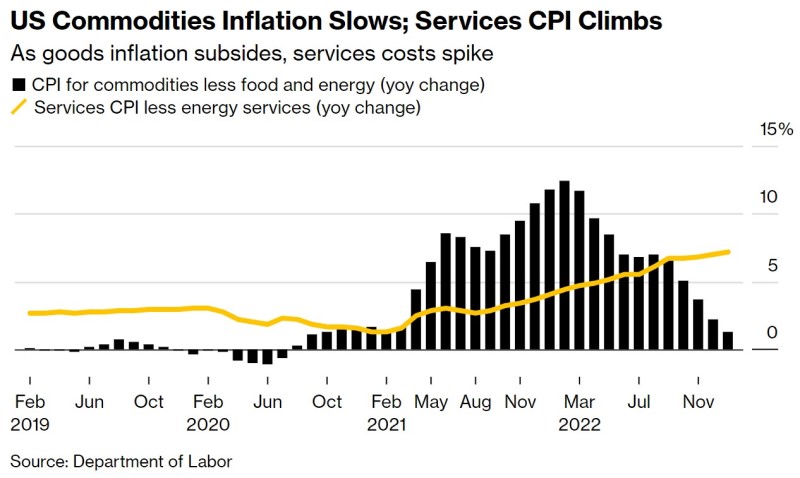 Commodities inflation was the primary driver of the inflation spike in 2021 and the first part of 2022. But services inflation rose steadily and now, while commodities inflation is below the Fed's 2% target at 1.4%, services inflation is still well above target at 7.2%. Supply chain woes may have kickstarted inflation's comeback, but at this point, it is services inflation that is sustaining the trend in higher prices.
###
JMS Capital Group Wealth Services LLC
417 Thorn Street, Suite 300 | Sewickley, PA | 15143 | 412‐415‐1177 | jmscapitalgroup.com
An SEC‐registered investment advisor.
This material is not intended as an offer or solicitation for the purchase or sale of any financial instrument or investment strategy. This material has been prepared for informational purposes only, and is not intended to be or interpreted as a recommendation. Any forecasts contained herein are for illustrative purposes only and are not to be relied upon as advice.
---
‹ Back