Blog
Market Adaptations
We wrote last week about the extension of a $7,500 credit for new "clean" vehicles, noting the new requirement that such cars be built from minerals sourced or processed from countries with which the US has a free trade agreement, and with a battery made of components largely manufactured or assembled in North America. Given that over half of currently eligible vehicles do not meet the assembly requirements, the question remains as to whether automakers can quickly build supply chains that satisfy the legislative demands.
There is reason to be optimistic. Bloomberg's Colin McKerracher provides a compelling history of another key battery component, cobalt, that shows the power of markets and incentives to find solutions for resource problems. Fears of cobalt shortages and skyrocketing prices have diminished: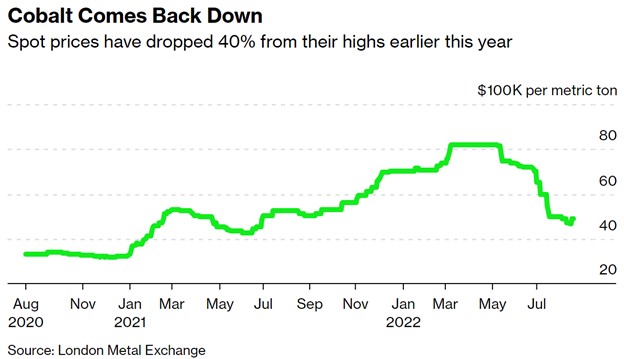 There are multiples factors in play that explain why cobalt prices have fallen sharply. First, McKerracher notes increased supply, citing an example of a mine in the Democratic Republic of Congo raising production by 40% over the past year. It's not at all surprising that higher prices would induce mining companies to ramp up production.
Second, higher expected cobalt prices provide incentives to battery manufacturers to find a way to make EV batteries that are less dependent on cobalt, and indeed, cobalt-based batteries have rapidly lost market share: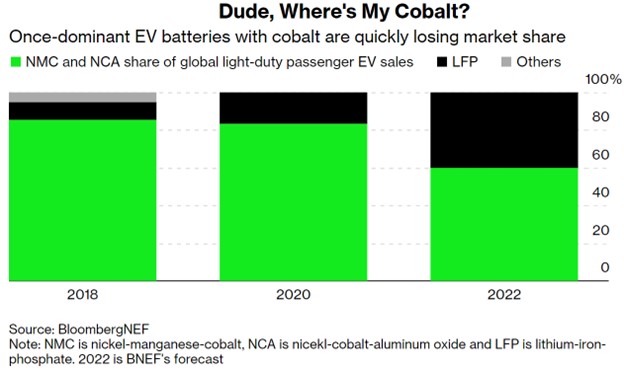 Because of the rapid growth of the electric vehicle industry, demand for cobalt is still increasing. But McKerracher observes that forecasts of cobalt demand have shifted downward significantly in recent years, as battery manufacturing technology has changed: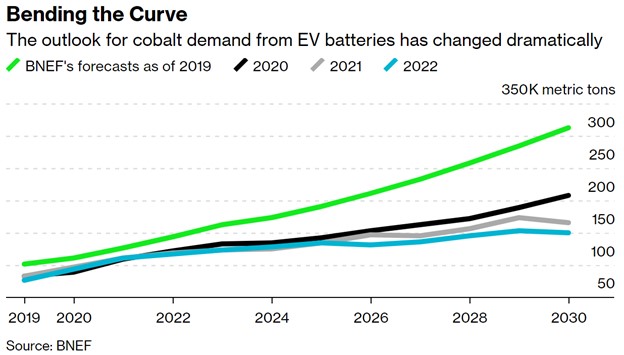 We don't know how quickly electric vehicle manufacturers will be able to shift production and create supply chains that are compliant with the new $7,500 credit requirements. But if cobalt is a representative example, then these adjustments may come to fruition faster than many people expect.
###
JMS Capital Group Wealth Services LLC
417 Thorn Street, Suite 300 | Sewickley, PA | 15143 | 412‐415‐1177 | jmscapitalgroup.com
An SEC‐registered investment advisor.
This material is not intended as an offer or solicitation for the purchase or sale of any financial instrument or investment strategy. This material has been prepared for informational purposes only, and is not intended to be or interpreted as a recommendation. Any forecasts contained herein are for illustrative purposes only and are not to be relied upon as advice.
---
‹ Back