Blog
Mineral Supply Chains
The Inflation Reduction Act that President Biden signed last week continued a $7,500 credit for various new electric cars, plug-in hybrids, and hydrogen fuel cell cars, but with strings attached. As Bloomberg's Keith Laing observes, Senator Joe Manchin, who held a pivotal vote for the legislation, insisted that such cars be built from minerals sourced or processed from countries with which the US has a free trade agreement, and with a battery made of components largely manufactured or assembled in North America. Essentially, Manchin is requiring many automakers to build new supply chains to qualify for the credit, as over half of currently eligible electric vehicles do not meet the assembly requirement.
Russia's invasion of Ukraine, along with China's military exercises around Taiwan, has spurred interest in industrial policy that encourages supply chains that are less vulnerable to geopolitical shocks. Luc Leruth, Adnan Mazarei, Pierre Regibeau, and Luc Renneboog describe some of the challenges that mineral supply chains face: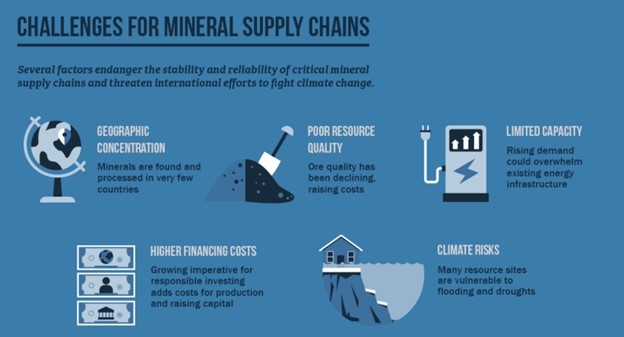 Furthermore, as Leruth and Mazarei note in a companion paper, mineral supply chains encompass more than just the country of origin for a mineral, as the shareholders that control mineral production may be based elsewhere. For example, with cobalt, while the Democratic Republic of the Congo produces 69% of the global supply, the top producers are incorporated in the United Kingdom, Switzerland, and China. While a small fraction of the world's lithium comes from China, Chinese shareholders control several lithium mining companies that account for about a third of global production. Although nickel and copper production are more broadly distributed, rare earth elements such as neodymium and dysprosium are heavily sourced from China, with 70% of global reserves found in China, Vietnam, and Russia. Leruth and Mazarei also state that China's position in the value chain may also give it even greater influence on rare earth element manufacturing, and cite the fact that a US firm, Mountain Pass, produces a rare earth element concentrate that it then sells to a Chinese company.
Given the somewhat frosty relationship between the US and China in recent years, it is understandable that US policy is seeking to add more resiliency to critical global supply chains. Time will tell whether Manchin's demand of automakers proves feasible, but if US-China relations settle into a cold war, we would expect to see further efforts at industrial policy that promotes domestic manufacturing sourced via more "friendly" supply chains.
###
JMS Capital Group Wealth Services LLC
417 Thorn Street, Suite 300 | Sewickley, PA | 15143 | 412‐415‐1177 | jmscapitalgroup.com
An SEC‐registered investment advisor.
This material is not intended as an offer or solicitation for the purchase or sale of any financial instrument or investment strategy. This material has been prepared for informational purposes only, and is not intended to be or interpreted as a recommendation. Any forecasts contained herein are for illustrative purposes only and are not to be relied upon as advice.
---
‹ Back