Blog
Tesla and Twitter
Tesla is not having a good year…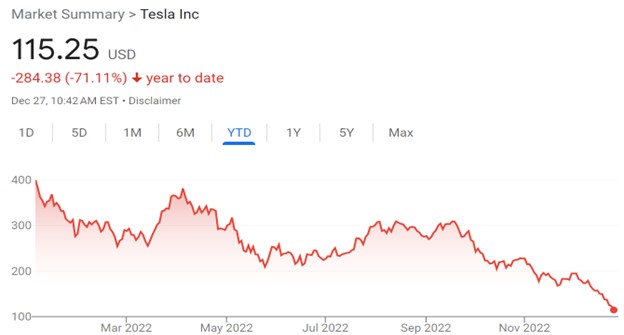 …though if we zoom out a bit, the Tesla picture looks much better: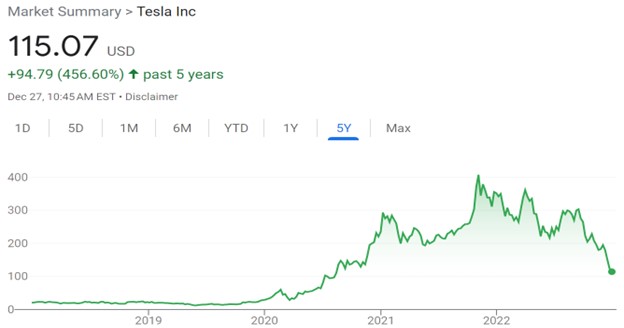 Barry Ritholtz has discussed some theories as to why Tesla's stock has fallen so much this year. Two of them are tied to the electric vehicle (EV) market. First, Tesla's runup in 2020 and 2021 probably left it overvalued; as Ritholtz notes, as of late 2021 Tesla had a $1 trillion market cap, which was more than the market caps of the next 10 automakers combined. Even now, despite its loss of 70% of its value, the stock still has a hefty P/E ratio of 35.1 as of this writing. Tesla's rise was meteoric; its stock value rose from $1.28 in July 2010 to over $400 in November 2021. From such lofty heights, it may not take much bad news to knock the company off its pedestal.
Moreover, legacy automakers have entered the EV market more aggressively in recent years. For much of the 2010s Tesla's primary competitors were other EV startups such as Lucid and Rivian. At this time we can add to the picture Ford, Hyundai/Kia, GM, VW/Audi/Porsche, and more.
The third theory for Tesla's decline may capture the public's attention the most, since Elon Musk himself has been drawing such attention his way. Elon Musk's purchase and management of Twitter has coincided with a precipitous drop of Tesla's fortunes, beyond the decline earlier this year that also roiled global markets, including other automaker stocks. (By comparison GM and Ford are each down about 5% over the past 6 months, whereas Tesla is down over 50% during that span).
Ritholtz is concerned that Musk may be surrounded by "yes men", sycophants who massage Musk's ego no matter what decisions he makes. Musk's purchase of Twitter was a questionable decision, in that Musk's initial offer was so high that Musk himself then tried to back out of the deal before eventually going through with the takeover. Ritholtz cites a chart that tracks Tesla's stock price along with Twitter-related events: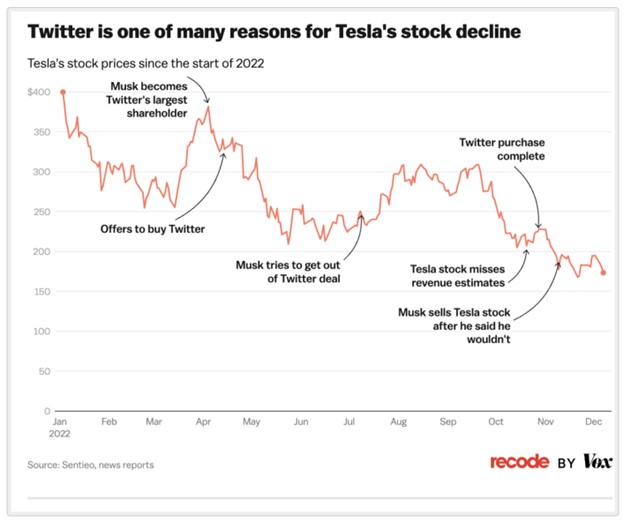 Elon Musk is free to manage Twitter however he pleases. However, some analysts would prefer that Musk shift more focus from Twitter back to Tesla. In fact, Elon Musk posted a Twitter poll asking whether he should resign as CEO, and after 57% of respondents voted yes, commented that he would resign as soon as he finds someone foolish enough to take the job. We can't say whether the poll was tongue-in-cheek or designed to affirm a resignation decision he was going to make anyway, but as of now markets have apparently lost much of the faith they had in Tesla and its star CEO.
###
JMS Capital Group Wealth Services LLC
417 Thorn Street, Suite 300 | Sewickley, PA | 15143 | 412‐415‐1177 | jmscapitalgroup.com
An SEC‐registered investment advisor.
This material is not intended as an offer or solicitation for the purchase or sale of any financial instrument or investment strategy. This material has been prepared for informational purposes only, and is not intended to be or interpreted as a recommendation. Any forecasts contained herein are for illustrative purposes only and are not to be relied upon as advice.
---
‹ Back