Blog
Fed Rate Increase – A Slow Down
The S&P 500 jumped about 3% last Wednesday after Fed Chair Jerome Powell delivered remarks at the Brookings Institution. Powell didn't deliver any earth-shattering news, but may have brought a degree of relief to markets by suggesting that the rapid pace of rate hikes may finally be ready to slow.
Markets are anticipating a 50bp rate increase from the Fed in December, which marks a step down from the consistent 75bp rate increases issued after the last several Fed meetings. Still, Powell commented that rates are likely to peak higher than the 4.60% level than the Fed previously projected in September, and that rates were likely to remain elevated for some time. The bottom line is that as long as inflation stays high, the Fed will be inclined to leave rates high.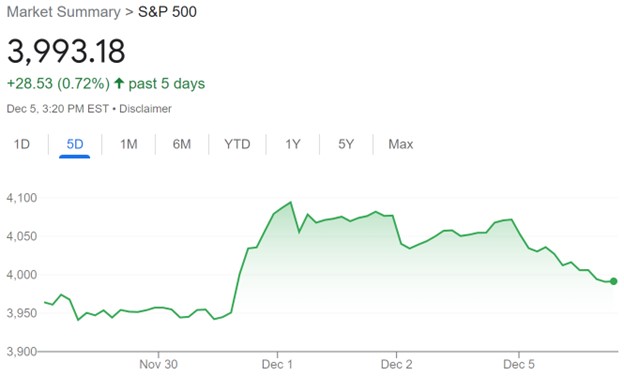 Markets have been sensitive to inflation news; Friday's unemployment report showed surprisingly strong wage growth, today's ISM services report was unexpectedly strong, and the S&P 500 has given back over half of last Wednesday's gains as of this writing. We acknowledge the possibility of a fair amount of movement in treasury rates and stocks as markets digest the many new economic reports that will come out over the coming weeks, while the Fed reassesses how hard to slam the breaks on the economy.
###
JMS Capital Group Wealth Services LLC
417 Thorn Street, Suite 300 | Sewickley, PA | 15143 | 412‐415‐1177 | jmscapitalgroup.com
An SEC‐registered investment advisor.
This material is not intended as an offer or solicitation for the purchase or sale of any financial instrument or investment strategy. This material has been prepared for informational purposes only, and is not intended to be or interpreted as a recommendation. Any forecasts contained herein are for illustrative purposes only and are not to be relied upon as advice.
---
‹ Back