Blog
A Somewhat Optimistic View of the 2023 US Economy
Goldman Sachs has issued a relatively upbeat view of the US economy in 2023, arguing that we are more likely than not to avoid a recession in 2023. The article notes that the median forecaster estimates a 65% chance of a recession next year, whereas Goldman's forecast assigns only a 35% recession probability. While the Goldman view is on the optimistic side, a 35% and 65% recession probability each means that both the recession and the non-recession case are quite plausible outcomes.
Why is Goldman optimistic? Its 2023 growth forecast is on the higher side, in part due to a rebound in real personal income: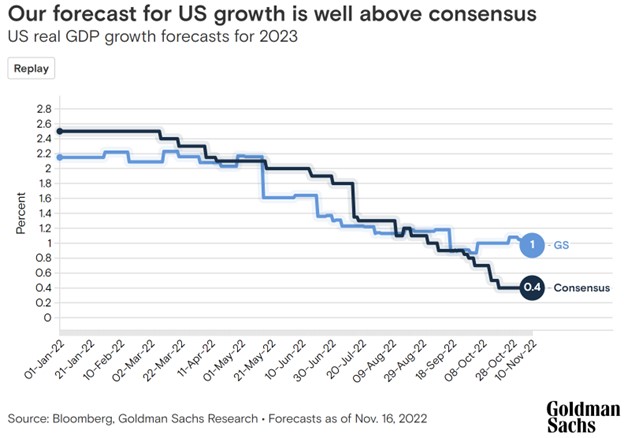 1% growth wouldn't constitute a banner year, but it could be enough to escape a recession.
Goldman's other primary argument is that the US labor market is overheated not so much due to excessive employment, but an excessive number of job openings.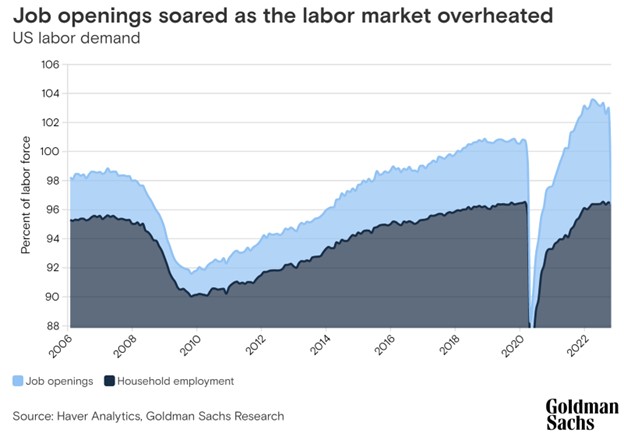 The hope is that the Fed's interest rate hikes will cool the labor market mostly by shrinking the excess in job openings rather than dramatically increasing the number of unemployed people. Goldman estimates that the number of excess job openings has declined from 6 million to 4 million already, with 2 million as the number it needs to reach to help pull inflation close to the Fed's 2% target.
Still, Goldman expects the Fed to raise rates another 1.25% over the next 6 months, and then to maintain a federal funds rate of 5-5.25% until the second quarter of 2024. The higher rates would stay in place both because they could help keep inflation expectations low and anchored, and because the Fed would feel little pressure to cut rates if the economy indeed avoids recession. Although a soft economic landing would be better than a hard landing, we are still likely to experience tepid growth until inflation falls considerably.
###
JMS Capital Group Wealth Services LLC
417 Thorn Street, Suite 300 | Sewickley, PA | 15143 | 412‐415‐1177 | jmscapitalgroup.com
An SEC‐registered investment advisor.
This material is not intended as an offer or solicitation for the purchase or sale of any financial instrument or investment strategy. This material has been prepared for informational purposes only, and is not intended to be or interpreted as a recommendation. Any forecasts contained herein are for illustrative purposes only and are not to be relied upon as advice.
---
‹ Back