Blog
Emerging Markets - Taking the Lead
The MSCI Emerging Markets (EM) Index fell 2.5% in US denominated returns in 2021. This poor showing looks especially bad in comparison to returns of over 11% in developed markets (Europe, Australasia, and Far East), and over 28% from the S&P 500. However, at AllianceBernstein, Henry D'Auria, Sergey Davalchenko, and Sammy Suzuki argue that improvement is likely to come on several fronts in 2022.
First, the impact of Covid is likely to decline this year, as vaccination rates climb and the virus moves closer to becoming endemic in the population, rather than a widespread pandemic. Second, the worst may be over for Chinese markets, which lost over 20% last year. China is a huge component of the emerging market index-- excluding China from the Emerging Markets Index in 2021 would have changed the Index return from -2.5% to 10.0%, which is an enormous swing. The authors note that default by Chinese developer Evergrande has not cascaded across broader markets, further regulatory tightening does not appear imminent, and monetary policy has been easing and may become even more dovish in 2022.
Third, the authors observe that many EM central banks raised rates in 2021, so that impending Fed action in the US may have a more limited impact abroad. Inflation may also be a lesser concern, as developing countries aren't experiencing the same labor shortages and wage hikes that the United States is. EM performance in 2022 may thus be better than it typically is during rising rate environments, which have historically brought mixed results: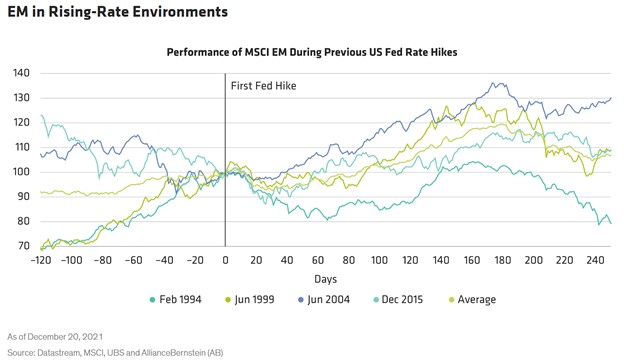 Finally, EM valuations are relatively attractive: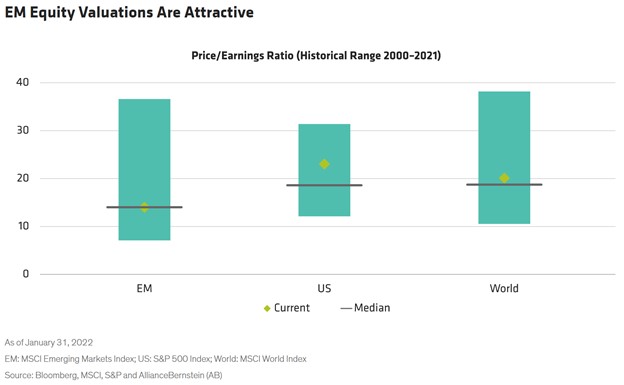 With US valuations high, bond yields low, and multiple rate hikes likely on the horizon, other areas in global markets will naturally hold more appeal. Emerging markets are already a useful diversifying investment; if D'Auria, Davalchenko, and Suzuki are correct, they may be one of the better performing asset classes in 2022 as well.
###
JMS Capital Group Wealth Services LLC
417 Thorn Street, Suite 300 | Sewickley, PA | 15143 | 412‐415‐1177 | jmscapitalgroup.com
An SEC‐registered investment advisor.
This material is not intended as an offer or solicitation for the purchase or sale of any financial instrument or investment strategy. This material has been prepared for informational purposes only, and is not intended to be or interpreted as a recommendation. Any forecasts contained herein are for illustrative purposes only and are not to be relied upon as advice.
---
‹ Back