Blog
Facebook's Faceplant
Though many stocks have struggled this year, few have fallen as far as Meta, Facebook's parent company: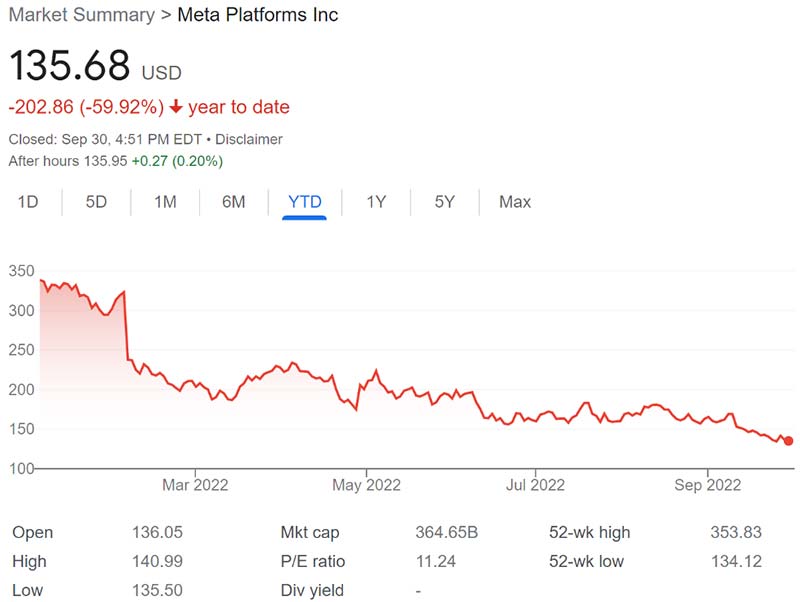 What's happened to Meta? CNBC's Jonathan Vanian has an excellent overview of the company's decline that describes both its remaining strengths as well as its continued challenges.
Vanian argues that the very forces that spurred Facebook's rapid rise—network effects—have now caused a rapid downturn. Facebook grew as users brought friends, family, and coworkers into the fold, who in turn told their acquaintances, who then joined, who then invited their friends to make Facebook accounts. People were congregating on
Facebook, and advertising dollars followed. Unfortunately, the virtuous cycle for Facebook has now turned into a vicious cycle—Facebook has begun losing users and advertisers have reduced Facebook spending in turn.
The decline in daily users hasn't been large—from 198 million in the US/Canada to 197 million over the past 2 years (and the number of global users is up over that span)—but stocks are forward-looking in nature. If investors bid up Facebook's price in anticipation of continued high growth rates, then the price will likely fall significantly should growth fall short of expectations. It's unclear whether Facebook can recover its upward trajectory, or if users are permanently shifting, perhaps across generational lines, to other social media sites, such as TikTok.
Meta, Facebook's parent company, is pouring billions of dollars into developing the metaverse, but any financial success for the metaverse is likely years away, and Meta's stock price plunge would seem to indicate investor skepticism. Meta has also created Facebook Reels as a rival to TikTok, though its ability to steal eyeballs from TikTok, as well as generate advertising revenue, remains in question.
Meta certainly retains significant strengths. It is a profitable company with a large set of core users and over $40 billion in cash and marketable securities. It can be argued that the profitability of its news feed makes Meta somewhat of a value stock, albeit with the twist that the company is also placing a high risk/high reward bet on the metaverse. Though its stock price fall raises questions as to its growth profile, Meta may still be able to maintain its status as a legacy company in the digital ad space.
###
JMS Capital Group Wealth Services LLC
417 Thorn Street, Suite 300 | Sewickley, PA | 15143 | 412‐415‐1177 | jmscapitalgroup.com
An SEC‐registered investment advisor.
This material is not intended as an offer or solicitation for the purchase or sale of any financial instrument or investment strategy. This material has been prepared for informational purposes only, and is not intended to be or interpreted as a recommendation. Any forecasts contained herein are for illustrative purposes only and are not to be relied upon as advice.
---
‹ Back