Blog
Global Markets Taking Omicron in Stride
The omicron variant, first detected in South Africa in late November and spreading rapidly, appeared to threaten the current equities bull run as markets began to swoon after Thanksgiving: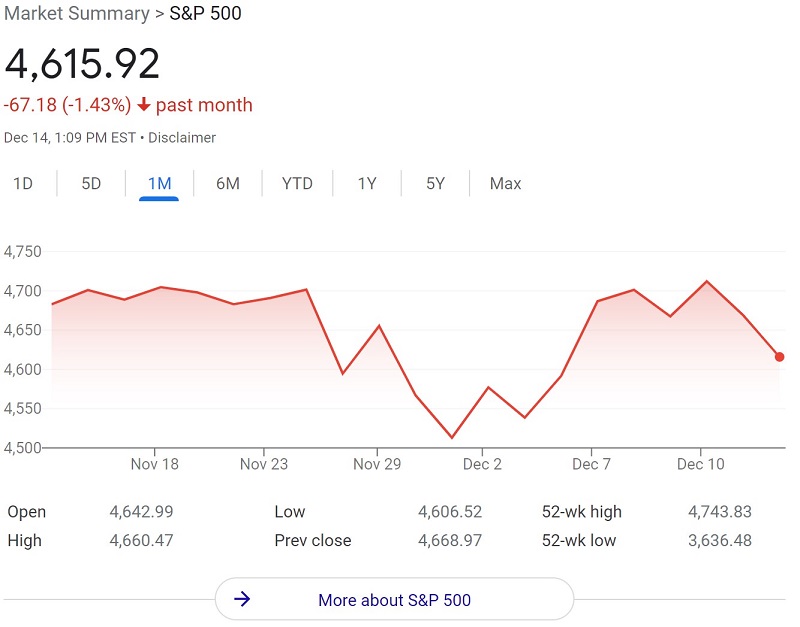 Within days, however, the S&P 500 recovered its losses and reached another record high. From a market perspective, omicron is the dog that didn't bark, at least not yet. Why? A note from JPMorgan analysts may provide an answer.
JPMorgan's chief global strategist Marko Kolanovic and quant strategist Bram Kaplan argued that the omicron threat was exaggerated and that omicron, potentially less virulent and more contagious, could displace the delta variant and thereby accelerate the end of the pandemic, which could then yield an endemic Covid resembling a seasonal flu. With uncertainty about the path of the virus, and fear of missing out on a bull market, it is not surprising that many investors were motivated to buy the dip.
Early signs are that omicron hospitalizations are down relative to those at the onset of the delta variant. We don't know whether that is due to omicron being less deadly, or people having a degree of prior immunity from vaccines or previous infections. Either way, the combination of a reduced coronavirus threat—if that proves to be the case—along with public weariness with public health measures could limit the market impact of Covid. In other words, markets have already priced in some degree of Covid disruptions, and omicron may not add significantly to the Covid burden. Instead, investor eyes may turn to the Fed, to try to get a sense of how much and how quickly rates may rise in 2022 and 2023 to forestall the unexpected inflation burst of 2021.
###
JMS Capital Group Wealth Services LLC
417 Thorn Street, Suite 300 | Sewickley, PA | 15143 | 412‐415‐1177 | jmscapitalgroup.com
An SEC‐registered investment advisor.
This material is not intended as an offer or solicitation for the purchase or sale of any financial instrument or investment strategy. This material has been prepared for informational purposes only, and is not intended to be or interpreted as a recommendation. Any forecasts contained herein are for illustrative purposes only and are not to be relied upon as advice.
---
‹ Back