Blog
Some Economic Data Is Turning Partisan
Last week we noted a massive partisan gap with respect to the direction of this country: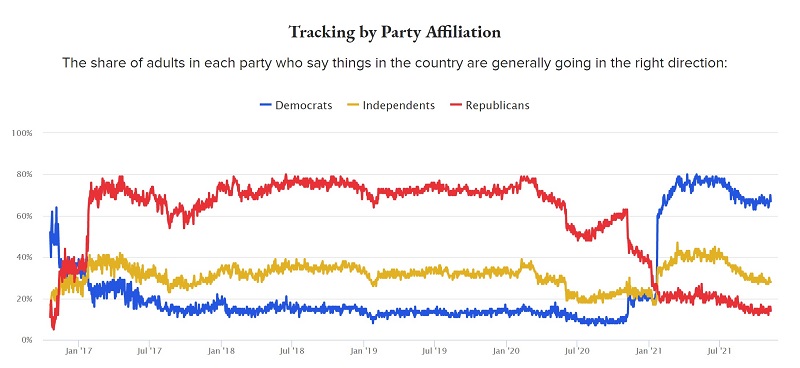 Sadly, some underlying economic data is also reflecting partisan polarization. The frequently cited University of Michigan Consumer Sentiment Index, whose latest pessimistic report was described in a CNBC article last week, reflects consumer beliefs that are closely connected to partisan affiliation.
The survey itself noted that positive or negative consumer moods fluctuated depending on whether the survey participant's preferred party controlled the White House:

What's all this mean? A fifty-point gap during the Trump and Biden administrations is enormous, as the consumer expectations number has only ranged from about 40 to 110 over the past 60 years: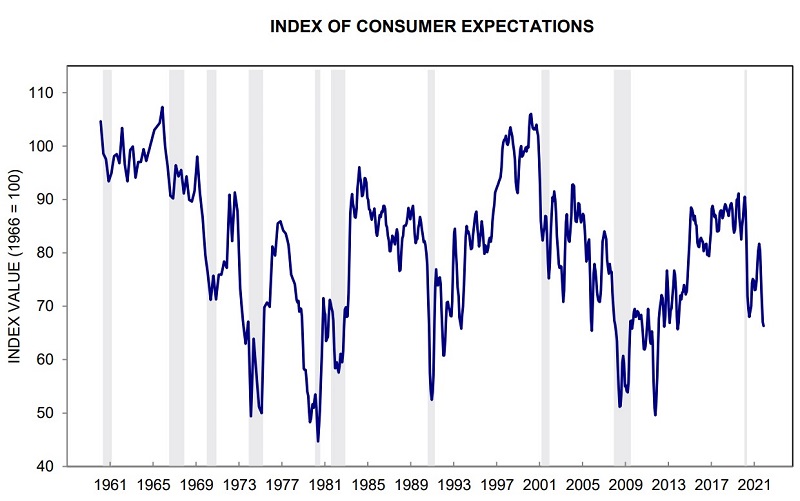 Trends still generally move as we would expect—consumer expectations typically fall during recessions and then rise afterwards. The range of values may be narrowing, however, just as it has for Presidential approval ratings.
Partisanship has likely been a significant factor in survey results for decades; what may have changed is the degree to which partisanship is influencing a survey's outcome. The recent Consumer Sentiment Index report blames rising inflation for increased consumer gloom, and last week's inflation report confirms that inflation has been higher and more persistent than previously hoped. A critical question is whether inflation is likely to dissipate as supply chain bottlenecks improve, or whether we start a wage-price spiral instead, in which workers demand higher wages to compensate for increased inflation, which in turn increases business expenses and demand for goods and services, resulting in higher prices. For the moment, it's unclear whether inflation will merely be viewed through a partisan lens (as a molehill for Democrats, and a mountain for Republicans), or whether it will spur a broader increase in wages, and then prices, across the economic spectrum.
###
JMS Capital Group Wealth Services LLC
417 Thorn Street, Suite 300 | Sewickley, PA | 15143 | 412‐415‐1177 | jmscapitalgroup.com
An SEC‐registered investment advisor.
This material is not intended as an offer or solicitation for the purchase or sale of any financial instrument or investment strategy. This material has been prepared for informational purposes only, and is not intended to be or interpreted as a recommendation. Any forecasts contained herein are for illustrative purposes only and are not to be relied upon as advice.
---
‹ Back