Blog
A Confluence of Good News
Given the receding pandemic, swift economic recovery, and rapid market growth, you might expect optimism to reign in this country.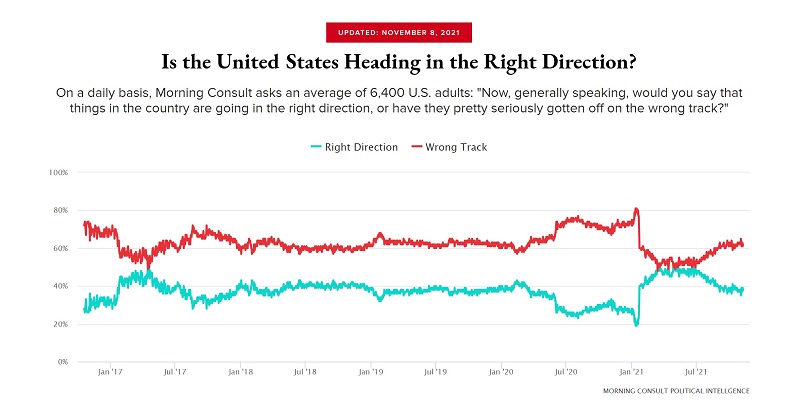 Alas, no. In fact, dissatisfaction has been in vogue for nearly two decades:

Sadly, the country's mood may be heavily viewed through a partisan lens these days: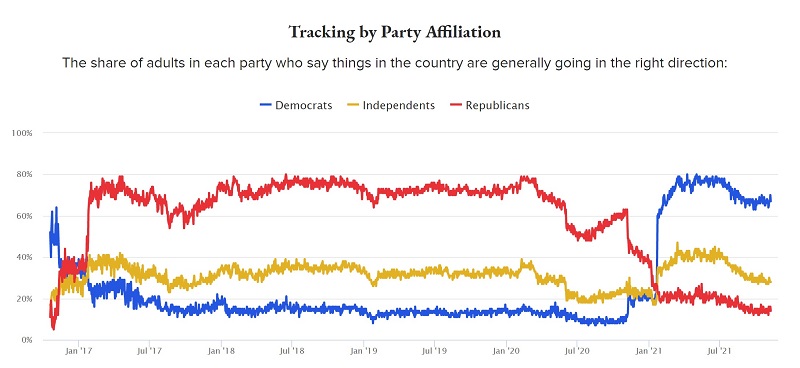 Hopefully we'll someday move beyond "does my party hold the presidency" as the primary way of assessing the direction of the country, but today is not that day. But even amidst the incessantly grim mood of the country, we have had several bits of good news over the past week:
The October unemployment report was excellent. The unemployment rate fell to 4.6%, nonfarm payrolls increased by 531,000, the prime age labor force participation rate rose, and disappointing August and September job numbers were revised upward by 235,000 jobs in total
We have new tools against COVID. Former FDA Commissioner Scott Gottlieb argues that the pandemic phase of the virus is near its end (though the virus will likely remain endemic). The combination of children's vaccination, along with improved treatments for those who do get sick, particularly antiviral pills from Merck and Pfizer, may signify that the delta wave was the last major wave of the virus within the United States
Congress finally passed the bipartisan infrastructure bill. The Senate approved the over $1 trillion bill back in August, but the bill was then delayed in the House of Representatives for months amidst wrangling over President Biden's Build Back Better Plan, which, if it passes (which is far from certain, but appears more likely than not, given negotiated progress among Democrats on many issues), would almost surely be solely with Democratic votes. The bipartisan infrastructure bill contains $170 billion for power and water systems, $110 billion for roads, bridges and other projects, $65 for broadband infrastructure, and more. It's also a rare moment of some degree of bipartisanship, with 19 Republican Senate votes and 13 Republican House votes for the measure
The S&P 500 also hit new records last week, closing on Friday at nearly 4,700.
The days may be getting shorter, and winter may be coming, but the holidays are also near, and now may be as good a time as any to count our blessings.
###
JMS Capital Group Wealth Services LLC
417 Thorn Street, Suite 300 | Sewickley, PA | 15143 | 412‐415‐1177 | jmscapitalgroup.com
An SEC‐registered investment advisor.
This material is not intended as an offer or solicitation for the purchase or sale of any financial instrument or investment strategy. This material has been prepared for informational purposes only, and is not intended to be or interpreted as a recommendation. Any forecasts contained herein are for illustrative purposes only and are not to be relied upon as advice.
---
‹ Back