Blog
Inflation Update
Headline inflation continues to fall, in large part due to plummeting energy prices. The Labor Department reported that the consumer price index rose 4.0% over the past year, which is the lowest mark since March of 2021. The consumer price index also increased just 0.1% over the past month, as a 3.6% decline in energy prices almost fully counterbalanced increased prices of other goods and services. Core inflation, which excludes volatile food and energy prices, rose 0.4% for the month and 5.3% over the past year. While the drop in headline inflation is bringing welcome relief to consumers, core inflation has unfortunately been much more persistent: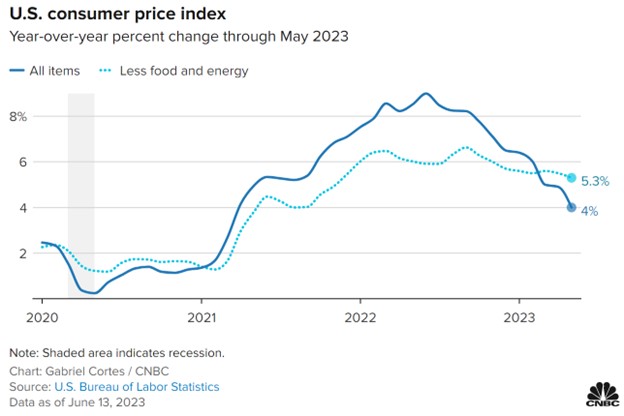 Core inflation has been falling slowly over the past year, and housing inflation is expected to decline during the remainder of 2023, so the disinflationary trend may continue to go in the right direction—but core inflation is still a significant distance from the Fed's 2% target.
Though the Fed paused its sequence of rate hikes in June, it indicated that it expects to continue raising rates further in 2023.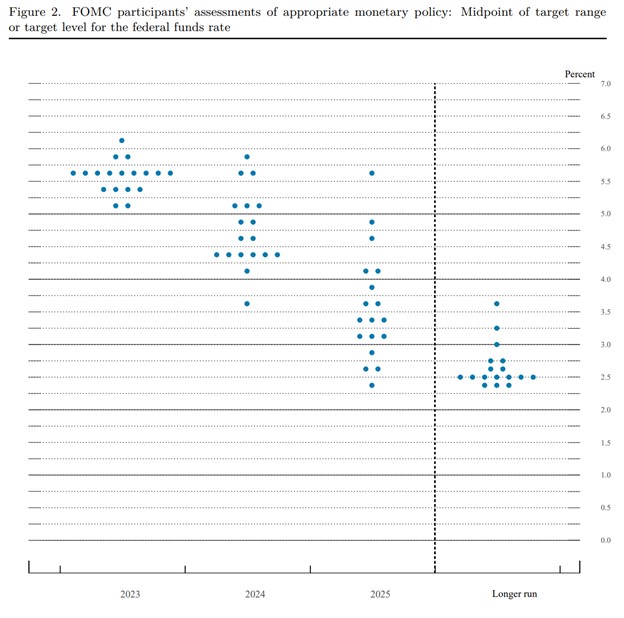 Source: Federal Reserve
The median projection is for 2 more 25bp rate hikes this year, which would take the federal funds rate from 5.00%-5.25% to 5.50%-5.75%. While rates could fall below 5% next year, the median Fed participant doesn't anticipate rates falling below 4% until 2025—though markets continue to show more optimism than the Fed about future rate cuts.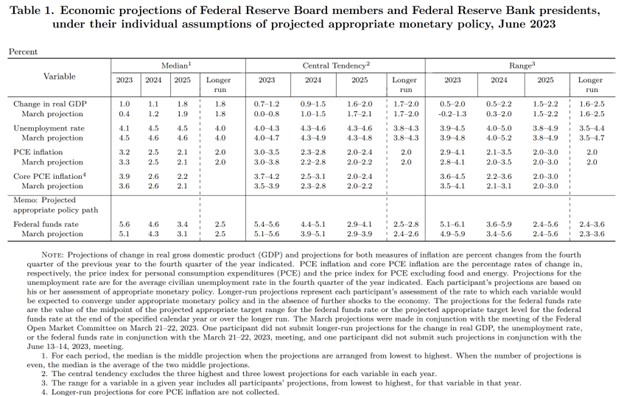 Source: Federal Reserve
The Fed has core inflation falling to 2.6% by 2024, with an unemployment rate of just 4.5%. In fact, the uptick in 2023 GDP projections—from 0.4% in March to 1.0% in June—reflects increasing confidence in the "soft landing" scenario, in which inflation is cooled without provoking a recession. Though inflation has been stickier than expected, and rates are likely to stay higher for longer, the surprising resilience of the economy may yet enable inflation to be tamed without major damage to the labor market. Financial markets also took the latest inflation report and Fed projections in stride, with the S&P 500 showing a small gain over the past week.
###
JMS Capital Group Wealth Services LLC
417 Thorn Street, Suite 300 | Sewickley, PA | 15143 | 412‐415‐1177 | jmscapitalgroup.com
An SEC‐registered investment advisor.
This material is not intended as an offer or solicitation for the purchase or sale of any financial instrument or investment strategy. This material has been prepared for informational purposes only, and is not intended to be or interpreted as a recommendation. Any forecasts contained herein are for illustrative purposes only and are not to be relied upon as advice.
---
‹ Back