Blog
Perspective on Home Prices
Visual Capitalist has a lovely graphic illustrating the change in housing prices over time:
The last 30 years shows a runup in prices that came crashing down after the Financial Crisis of 2008, then a significant recovery that in nominal terms spiked to record growth during the pandemic, followed by a sharp decline over the past year.
What's the current state of the housing market? After 19% nominal price growth in 2022, and real price growth of over 10%, we've seen an abrupt cooldown as the Fed has raised the federal funds rate 5% over the past 18 months. Still, despite much higher mortgage rates, real housing prices have remained steady. Though there may be fewer buyers, there are also fewer sellers, as the total housing supply is less than half its historical average. Dorothy Neufeld plausibly suggests that housing supply has ebbed in part due to current homeowner reluctance to move, given that they'd be swapping out a low interest-rate mortgage for a higher one: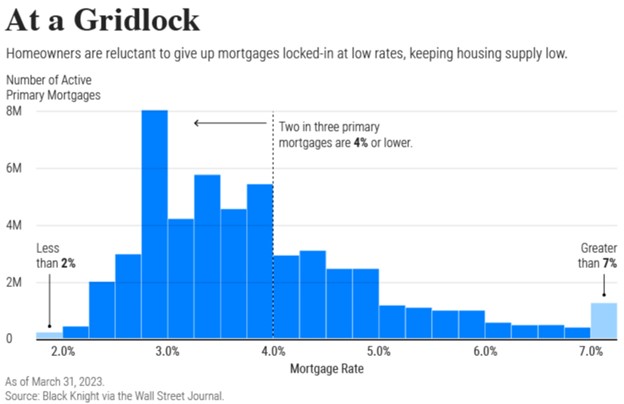 What does the future hold? If nominal prices cool, the real prices could fall due to elevated inflation. Housing supply could rise as more people stop deferring moving due to higher mortgage rates. Some cities and states with high-demand areas are also exploring loosening zoning restrictions, which would enable greater housing stock to be built. On the other hand, interest rates could fall if inflation dissipates and the Fed becomes inclined to reinitiate a low interest rate environment. For now, though, the housing market is tepid, with low supply, low demand, and low sales.
###
JMS Capital Group Wealth Services LLC
417 Thorn Street, Suite 300 | Sewickley, PA | 15143 | 412‐415‐1177 | jmscapitalgroup.com
An SEC‐registered investment advisor.
This material is not intended as an offer or solicitation for the purchase or sale of any financial instrument or investment strategy. This material has been prepared for informational purposes only, and is not intended to be or interpreted as a recommendation. Any forecasts contained herein are for illustrative purposes only and are not to be relied upon as advice.
---
‹ Back