Blog
Unemployment and The Fed
Friday's unemployment report showed an economy that is starting to cool, but only slowly. The unemployment rate dipped to 3.5%, largely due to labor force shrinkage and a lower participation rate. Nonfarm payrolls rose by 263,000, down from previous months and roughly in line with expectations: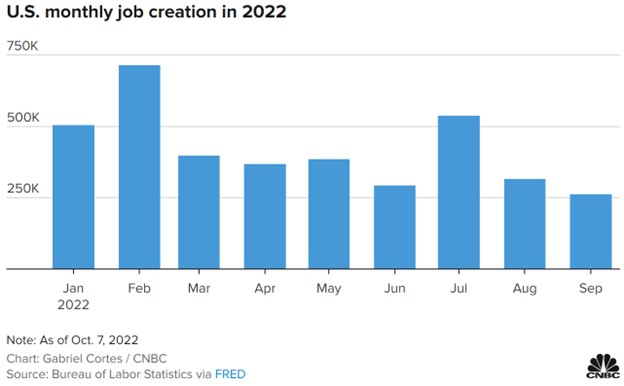 Average hourly wages rose 0.3% for the month, and 5% year over year, and while these numbers have been coming down, they are still too high to be consistent with the Fed's inflation target of 2%.
Karen Dynan and William Powell III at the Peterson Institute for International Economics have more detailed analysis of the recent jobs report. They assess labor markets as still very tight, albeit less so than a few months ago: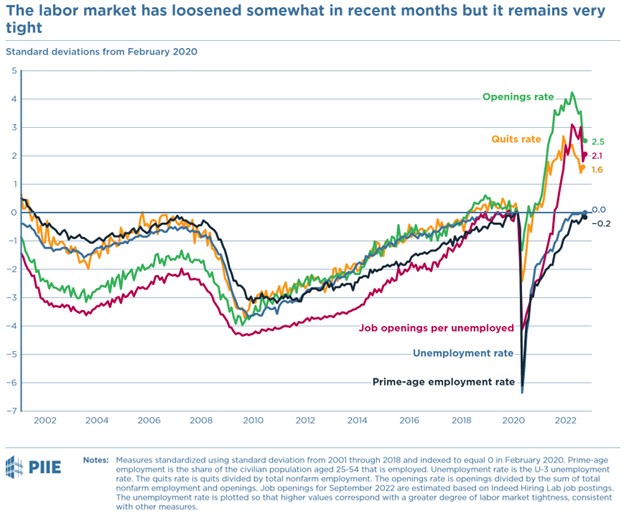 While unemployment is back at pre-pandemic levels, the job openings rate, quits rate, and job openings per unemployed numbers are still near historical highs. Dynan and Powell show a similar pattern for recent wage growth—while slowing, the numbers are still high: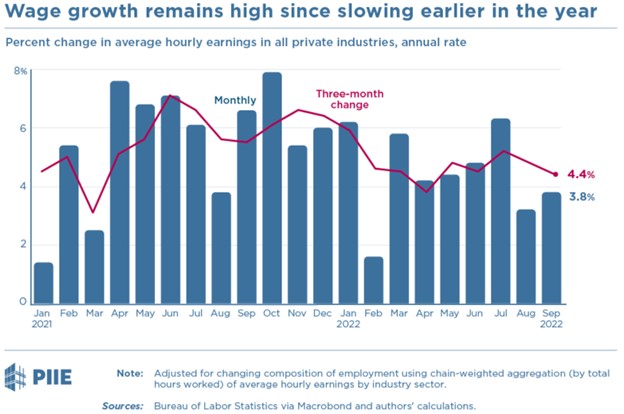 While productivity increases can account for a piece of wage growth, the growth rate of 4-5% is unlikely to be consistent with the Fed's target of 2% inflation. The Fed's sharp rate hikes during 2022 have probably had some impact in cooling the economy, but current inflation, wage, and unemployment numbers indicate that more hikes are likely on the way, and indeed, market expectations are for another 75bp rate hike in November. After that, though, Fed and market forecasts are only anticipating another 75bp or so in rate rises over the next 6 months post-November. The hope is still that the Fed will be able to normalize inflation while keeping interest rates and the unemployment rate below 5%; such an outcome, even if it technically counts as a recession, would be a relatively soft landing for the economy.
###
JMS Capital Group Wealth Services LLC
417 Thorn Street, Suite 300 | Sewickley, PA | 15143 | 412‐415‐1177 | jmscapitalgroup.com
An SEC‐registered investment advisor.
This material is not intended as an offer or solicitation for the purchase or sale of any financial instrument or investment strategy. This material has been prepared for informational purposes only, and is not intended to be or interpreted as a recommendation. Any forecasts contained herein are for illustrative purposes only and are not to be relied upon as advice.
---
‹ Back