Blog
Winter Is Coming
Inflation isn't just a United States problem—it also poses an enormous challenge to Europe. The European dilemma is particularly acute because Europe is also facing an energy crisis this winter due to the difficulties with respect to Russian natural gas. Eric Winograd of AllianceBernstein examines the UK economy and energy policy in conjunction with the nearly 10% inflation rate (with a core inflation rate of 6.3%) currently besetting the country.
UK Prime Minister Liz Struss announced energy price caps of £2,500 annually for average consumption households because consumers were facing an 80% price increase beginning in October. This 80% increase would have been on top of the additional rise earlier this year; without this intervention energy costs would have risen an astounding amount, from £1,277 annually in October 2021 to £3,549 in October 2022. Why would prices be rising so much? Winograd provides a helpful chart: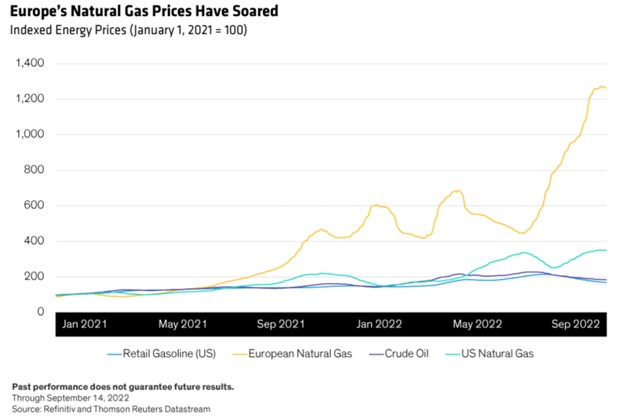 European natural gas prices have skyrocketed as Russia has severely curtailed natural gas exports to much of Europe. Winograd expects a recession in the UK and the rest of the Eurozone as real incomes fall. Central banks, however, are likely to continue raising rates, as inflation is still high.
There's no simple short-term fix for European economies or energy shortfalls. Russia is likely to seek sanctions relief or reduced support for Ukraine before increasing natural gas exports. New energy supply chains that bypass Russia will take time to build, as will increased production of renewable energy. Price caps can ease consumer pain, but will not increase supply; ultimately, many European consumers may need to reduce energy use in the coming months. Europe has increased fuel reserves, which will help, but if the Russian invasion of Ukraine continues into 2023, a hard winter will likely mean hard times for millions of Europeans.
###
JMS Capital Group Wealth Services LLC
417 Thorn Street, Suite 300 | Sewickley, PA | 15143 | 412‐415‐1177 | jmscapitalgroup.com
An SEC‐registered investment advisor.
This material is not intended as an offer or solicitation for the purchase or sale of any financial instrument or investment strategy. This material has been prepared for informational purposes only, and is not intended to be or interpreted as a recommendation. Any forecasts contained herein are for illustrative purposes only and are not to be relied upon as advice.
---
‹ Back